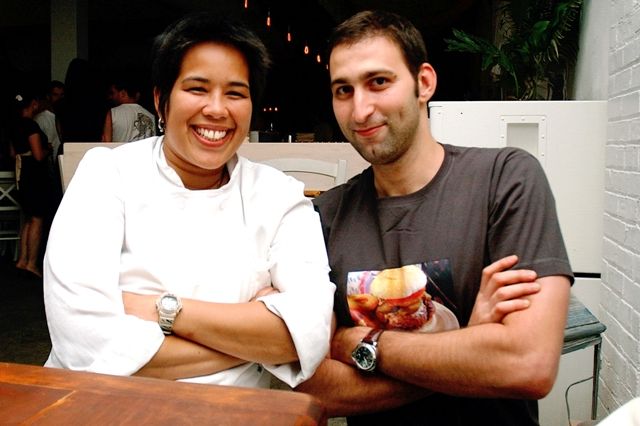 A season 2 contestant from "Top Chef" was beaten – along with a group of friends – over Labor Day weekend in Long Island. Josie Smith-Malave, an out and proud lesbian, was at the club Partners in Sea Cliff, Long Island for a birthday party. The group of friends had been asked to leave by the club's bouncer, ostensibly because he believed they were with underage drinkers. Someone else heard the bouncer say that the it was getting "too gay" inside the club. If the bouncer believed they were with an underage drinker, why didn't he card that person? As they were leaving, the group was attacked. A slightly different account in "Newsday" says the group was arguing with another group, which turned into an attack once they left the club.
"The attack on a former 'Top Chef' contestant and a group of her companions will be investigated as a bias crime, Nassau police said Wednesday.

The Sept. 1 altercation outside a Sea Cliff bar between Josie Smith-Malave, a member of the reality show's Season 2 cast, escalated from verbal sparring between two groups of bar patrons inside the bar to pushing, shoving, spitting and punching in the parking lot after both groups were tossed out, police said.

"During the assault, a video camera belonging to one of the victims was stolen and the suspects shouted anti-gay epithets, police said. The camera was apparently pointed in the direction of the suspects inside the bar, perhaps aggravating the incident, police said."
[From Newsday]
According to a more detailed story by New York's local ABC affiliate, a woman who lives across the street from the bar saw the whole thing, and witnessed a lot of homophobic slurs, thus lending credibility that it was a hate crime.
"Laura Yaz lives diagonal from the bar and says she saw the entire thing from home. 'When they said "I hope you die of AIDS" and I knew it was more than just a fight,' Laura said."

The victims say bystanders were actually flashing [taking] pictures of them being beaten."
[From 7 Online]
Josie Smith-Malave says she had punches thrown at her and was kicked in the head. She also said she watched as her sister was thrown to the ground and pummeled by six or seven people. Another friend was attacked and thrown to the curb by three women and nine men outside the club. She said, "I've never experienced something like that before where people are so angry I didn't even know where it was coming from."
That's such a sad story. I don't understand why or how people could act that way. Josie Smith-Malave isn't exactly a household name, but if she can use her little bit of fame to bring more attention to this case and to hate crimes in general, more power to her.
Pictures thanks to FoodCandy.com