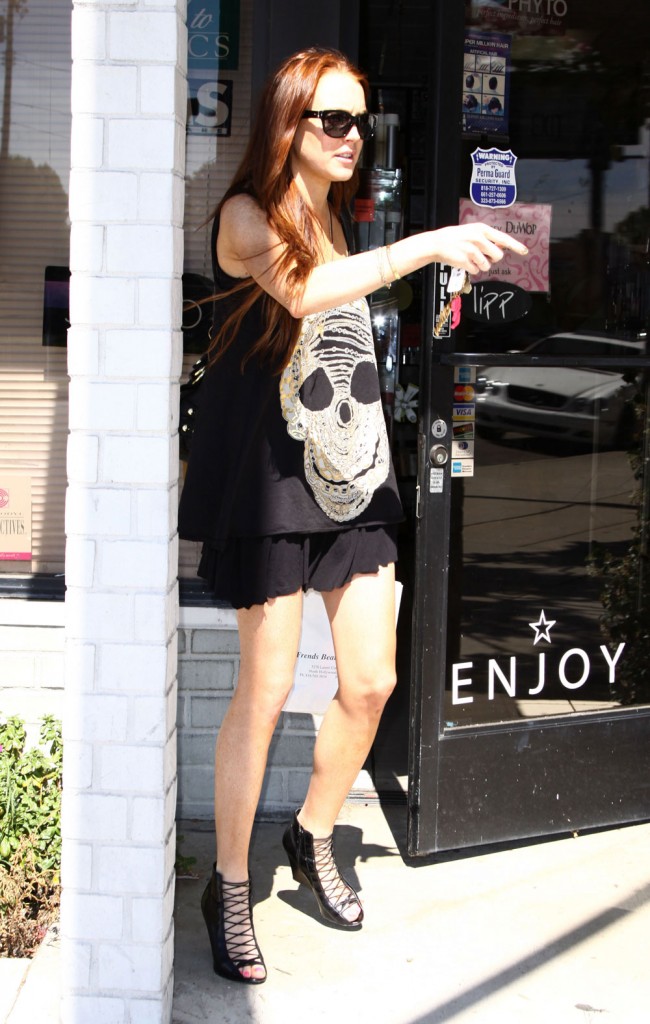 Lindsay Lohan isn't one to let a little thing like a lawsuit bring her down off her "high". Considering that Lindsay's tan-in-a-can Sevin Nyne is the only thing she's got going for her, it should have come as a "blow" to Lindsay that she was yet again named as a thief. Lindsay wasn't accused of stealing jewelry or a fur coat – this time Lindsay was accused of stealing another's woman's fake tan formula. The lawsuit came out in the press on Tuesday, and Lindsay finally got around to making an "official" statement about the lawsuit Wednesday afternoon, probably after she had "woken up" (meaning after she rolled over did some more blow, perchance?). You know what's classy? Lindsay responded to the lawsuit on Twitter! Lohan is starting to make Courtney Love look like an upstanding citizen:
Lindsay Lohan denies she stole the recipe for her tanning line, as alleged in a lawsuit filed against her.

"No formula was stolen for Sevin Nyne!" the actress — who just turned 23-years-old — Tweeted. "It's a woman looking for a payday. That's it!"

Scientist Jennifer Sunday filed a federal lawsuit against Lohan and her business partner, Lorit Simon, for breach of contract, theft of trade secrets, civil conspiracy, intentional interference with contractual relations and deceptive and unfair trade practices.

Lohan takes credit for co-creating the spray tan mist — named after her lucky numbers, and sold for $35 at Sephora — with Simon, a Las Vegas-based businesswoman.

The lawsuit alleges Simon and Sunday were negotiating over samples of the product, but couldn't agree on a price.

"The next thing we know, Lorit Simon and Lindsay Lohan are partnering, and Ms. Lohan is taking credit for developing this formula, which she indeed had no role in," Sunday's lawyer, Marcia Cohen, told the St. Petersburg Times yesterday.
[From US Weekly]
"No formula was stolen for Sevin Nyne! It's a woman looking for a payday. That's it!" Jesus, Lindsay. Of course this woman's looking for a payday – you're profiting from a spray tan that you didn't make! Saying that Jennifer Sunday is just "looking for a payday" isn't really the best argument. Because, duh, people like to be paid for things they invent. Even when what they invent gets stolen by a crackhead.
Lindsay is shown out in LA yesterday, 7/8/09. Credit: Fame Pictures. She seems to have a new tattoo on her forearm but I can't make out what it says.