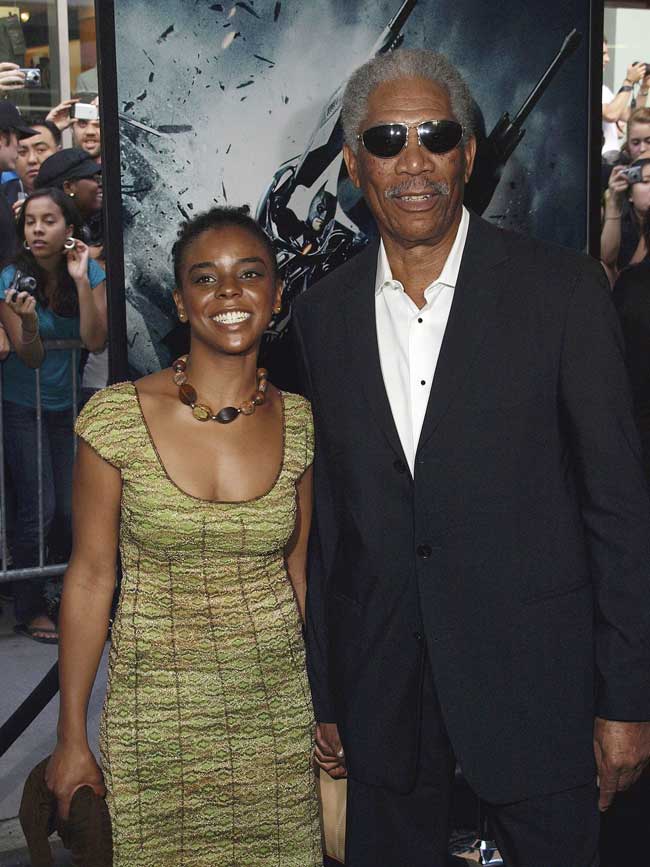 Morgan and E'Dena on 7/14/08. Credit: WENN.com
About three weeks ago, we reported on a National Enquirer story that made a lot of us sick. The Enquirer alleged that Oscar-winner Morgan Freeman, 72, had been engaged in a decade-long affair with his step-granddaughter E'Dena Hines. Morgan was married to his second wife Myrna during the scope of the alleged affair, and the affair was supposed to have started when E'Dena was seventeen. She is now 27 years old. E'Dena and Morgan have no biological connection – she is the granddaughter of Morgan's first wife, but Morgan and his second wife helped raise E'Dena, so it's still pretty gross. After the Enquirer's report, there was no formal denial from Morgan's camp or anything, and I began to suspect that maybe his now estranged wife Myrna had leaked the information as an attempt to perhaps get more money in their divorce proceedings.
The Enquirer's follow-up report is just as gross. They're now alleging that the E'Dena's goal was to "become Mrs. Morgan Freeman" and that Morgan has "led her to believe that he wants to marry her." According to sources, Morgan and E'Dena have an open relationship – they are both seeing other people – but they seem to want to marry each other for real:
In a blockbuster World Exclusive The ENQUIRER has learned exclusively that Morgan Freeman plans to marry his step-granddaughter, family sources reveal.

In our June 29 issue, we revealed that sources close to the 72-year-old actor claim that he had carried on a shocking, nearly decade-long affair with his 27-year-old step-granddaughter, E'Dena Hines. She is the granddaughter of Morgan's first wife – whom he and his estranged second wife Myrna raised since she was a young child.

The long-secret relationship led to the breakup of Morgan's marriage, say sources close to Freeman and his wife.

Now, The ENQUIRER has learned that Morgan and E'Dena are planning to wed after Morgan's contentious divorce battle is over!

"Morgan has led her to believe that he wants to marry her," a family insider told The ENQUIRER.

"Becoming Mrs. Morgan Freeman has been E'Dena's goal," revealed another family source.

Wife Myrna, 68, has admitted that she and Morgan have not shared a bed since 2001, and that they had an open marriage – with both Morgan and Myrna having other partners. For years, Morgan carried on an affair with former schoolteacher Mary Joyce Hays at the same time he was romancing E'Dena.

Years later, when Myrna realized they were still intimate, she became so enraged that she threatened to sue E'Dena as "correspondent, as an adulterer, in my marriage".'
[From National Enquirer]
So, is this just more pseudo-dirty laundry being leaked to the Enquirer by Myrna's camp, or is there the whiff of truth? I truly don't know. I want to think so highly of Morgan, but I sort of believe that some of this may be possible. Morgan has brought E'Dena as his "date" to many events throughout the years… but that could mean anything. The Frisky is asking aloud if the rumors of this scandal are enough to destroy Morgan's career – what do you think?