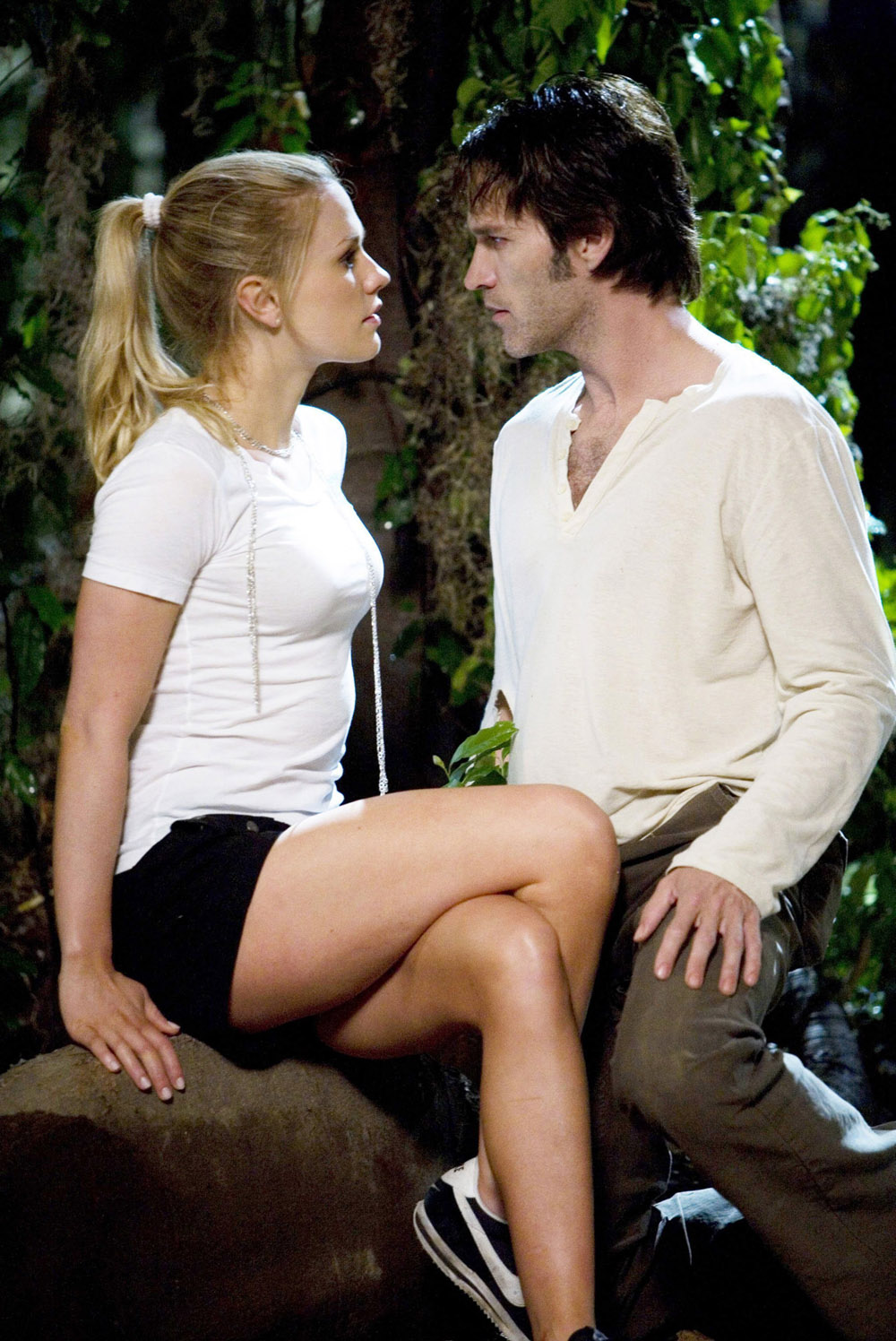 True Blood costars Anna Paquin and Stephen Moyer are getting hot and heavy on and off camera. To her credit, Anna hasn't been regaling the press with stories about their relationship, and she hasn't been playing coy about the erotic, racy scenes she and Stephen have to shoot either. In a recent interview, Anna was blasé about True Blood's content, saying "Obviously, if you're already with that person then you're not having to sort of get over the 'Wow, I'm naked with someone that I don't even know the middle name of!' I think that regardless of what kind of scene you're doing, the better you know the person … the more open and real your performance can be. And that goes for stunt scenes and heavy emotional scenes and sex scenes. OK, so I have a little bit of a leg up in that particular area with my on-screen [partner]."
There's a question being posed by Star Magazine – just when did Moyer and Paquin begin their off-screen romance? Moyer always claimed that he left Lorien, his girlfriend/baby-mama of seven years, then took up with Anna. But now Star got a hold of an interview Anna allegedly did where she claims that their relationship was "unstoppable" and that they tried "to stay professional for as long as we could." Yeah, it sounds like Anna was homewrecking the hell out of Stephen. And that he went along willingly:
It was love at first, um, bite for Anna Paquin and Stephen Moyer after the British hunk aced his True Blood audition opposite the Oscar winner in early 2007, but they kept their instant attraction a secret from everyone, including his girlfriend of seven years — the mother of his young daughter, Lilac.

That September, Stephen told a British newspaper that his move from London to L.A. for the series had resulted in the end of his relationship with British journalist Lorien Haynes, saying: "Nobody has left anybody for anybody else." But those words ring hollow now that Stephen and Anna — who now live together — have admitted that sparks flew the moment they first met!

"We tried to stay professional for as long as we could," says Anna. "But it was unstoppable!"

Stephen's ex had never before spoken publicly about their breakup, but comments to Star about the situation in our July 20 issue — on sale today. And a friend of the actor weighs in on his friend's decision to leave Lorien.

"You can understand why he grabbed the opportunity to go to L.A. for True Blood and reach for a new level of stardom," says the friend. "But Lorien is beautiful, brilliant and the mother of his daughter. Ending their relationship after seven years was a high price for Stephen to pay, even if he and Anna seem happy together."
[From Star Magazine]
I don't think Stephen and Anna "seem" happy together, I think they actually are happy together. Ordinarily, I could care less about The Homewrecker Wars being waged about certain actresses (and yet, not some other actresses). But I did find this story interesting. When Anna and Stephen first met, she was 25 years old and he was, like, 38 years old (I'm trying to estimate when True Blood's first season began filming). They were both old enough to know what they were doing, but my guess is that Moyer, nearing his fortieth year, simply opted for the younger model. It's sad that he dumped the woman who had given birth to their daughter, but that was Moyer's choice. Oh, and he's got another kid, too. A son named Billy – I have no idea about that baby-mama. Lord, I hope Anna doesn't get pregnant. Moyer will just move on to the next woman. That seems to be his modus operandi.
Here are Anna and Stephen in "True Blood." Images thanks to WENN.com .