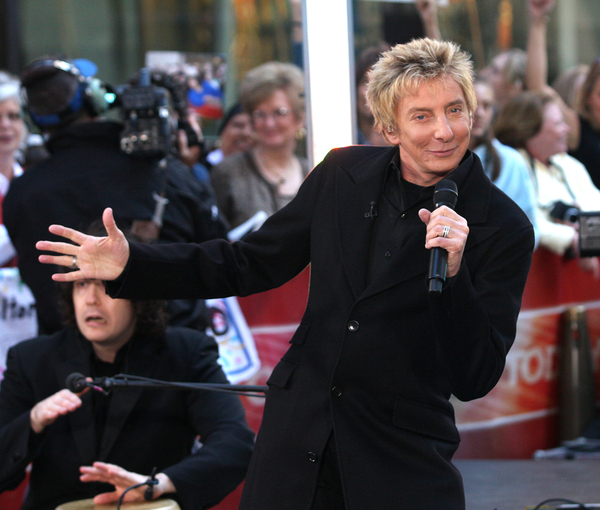 It's not everyday that Barry Manilow gets a mention in the New York Daily News, or on a bunch of blogs. But he's thrown an awesome hissy fit, and that's just where it landed him. Manilow, famous for that incredibly annoying "Copa Cabana" song that makes you want to find him and cut off his tongue, was scheduled to appear on "The View" today. Manilow didn't want to be interviewed by Elizabeth Hasselbeck, due to her vocal right-wing, pro-war beliefs. A few sources said he refused to go on if she was there and a few more have said he just didn't want to talk with her. It's hard to say.
"Barry Manilow balked at the thought of being interviewed by 'The View's' Elisabeth Hasselbeck, so the producer of the show tossed his appearance. Manilow, who has been on the show before – once he hugged Hasselbeck – was to be on today's show. But the visit was scrapped when he asked to chat with anyone but Hasselbeck.

"Manilow's spokeswoman and a 'View' source said show executive producer Bill Gedde canceled the visit – not Manilow. 'His views don't coinicide [sic] with hers,' she said."
[From the Daily News]
I would guess Manilow was fine before because the situation was different before. It seems that even celebrities that used to keep their politics to themselves have felt the situation reaching ridiculous and intolerable levels, and are speaking up. I'm not sure that it's appropriate to ask Hasselbeck not to be on her own show, but I understand not wanting to get into a fight with her. Manilow posted a message on his website yesterday addressing the issue.
"'I wanted to let you know that I will no longer be on The View tomorrow as scheduled. I had made a request that I be interviewed by Joy [Behar], Barbara [Walters] or Whoopi [Goldberg] but not Elisabeth Hasselbeck,' he wrote. 'Unfortunately, the show was not willing to accommodate this simple request, so I bowed out.'

"A spokesperson for the chatfest declined to comment on Manilow's exit.

"Manilow had appeared on ABC's daytime talker twice in the past year without any such requirements, most recently last November. Of course, that was before his pal Rosie O'Donnell blew up at Hasselbeck over the war in Iraq and exited the show in May.

"Said Manilow: 'It's really too bad, because I've always been a big supporter of the show, but I cannot compromise my beliefs. The good news is I will be on a whole slew of other shows promoting the new album, so I hope you can catch me on those.'"
[From E! News]
We'll get right on that Barry. Thank God he'll be on a bunch of other shows – if I didn't hear him sing "I Write the Songs" or "Weekend in New England" I would just freak the hell out. So though I don't really care about Barry Manilow (except to mock, which is almost too easy and not all that fun anymore) it's interesting to see a celebrity stand up for himself and his beliefs. Now if only a few more people would say that directly to George Bush.
Picture note by JayBird: Here's Barry Manilow performing yesterday on the Today Show. When I was a kid I always thought he looked like a parrot. Can you see it?
Images thanks to PR Photos.