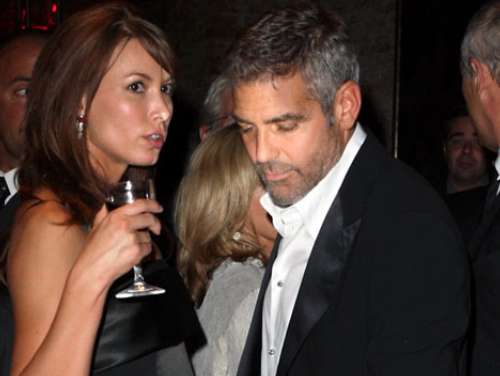 George Clooney has been dating a 28 year-old cocktail waitress that he met at the Palms hotel this June at the Oceans Thirteen premiere. Sarah Larson worked as a hostess and waitress at club Moon in the Palms, and recently quit after Clooney started squiring her around the world. He brought her with him to the Deauville and Venice film festivals and is even said to have moved her into his place.
Showing the type of blind ambition that it must take to hook up with one of the world's most notorious womanizers, Ms. Larson was once a contestant on the skeeve-fest that is Fear Factor. In 2005 she appeared on the game show, winning $50k with her then-boyfriend. She didn't shy away from drinking blood or ingesting a cocktail with a scorpion in it. When it came time to commit to her boyfriend, though, she got scared and left to pursue her dream of star f&**ing:
In 2005, and her boyfriend at the time, waiter Dan Randolph, decided to go on the TV program "Fear Factor" as a couple.

Sarah's challenges on the show included downing a martini with a scorpion in it and swallowing blood.

The pair won $50,00 on the show, but reportedly ended up losing half of it gambling on blackjack at the end.

They took the remaining money and used it as a down payment on a house.

"Dan wanted to settle down with Sarah, get married and have kids," said [a] pal. "But she had other ideas. They split up soon after they moved in, and Sarah was dead-set on becoming rich and famous.

"Now that she's living with George, it looks like she may be on her way to becoming both.

"George took her to Europe with him right away, and they spent most of the summer together there.

"When Sarah wanted to head back to the states, George begged her to stay – and she's been living with him ever since."
[From The National Enquirer, print edition, September 24, 2007]
Maybe I'm so harsh on her because I'm one of those people that can't even watch Fear Factor. I'm half in awe of and half disgusted by the contestants who actually go through with the ridiculous dares in the name of entertainment. Being humiliated like that on national television should be worth a hell of a lot more than $25k a head, and that's only for the people who win the challenges. Aren't there contestants that eat bugs and entrails and end up going home penniless and sick to their stomachs?
I wonder if dating Clooney is anything like being a contestant on that show. He's said to be a moderately kinky guy. It must take a certain kind of daredevil to put up with his demands in the bedroom, realizing that they're taking their chances with ever winning the prize of commitment, even for a month or two. Then again, there are always women who are up for challenge, and letting Clooney have his way with you must be more pleasant than eating scorpions.