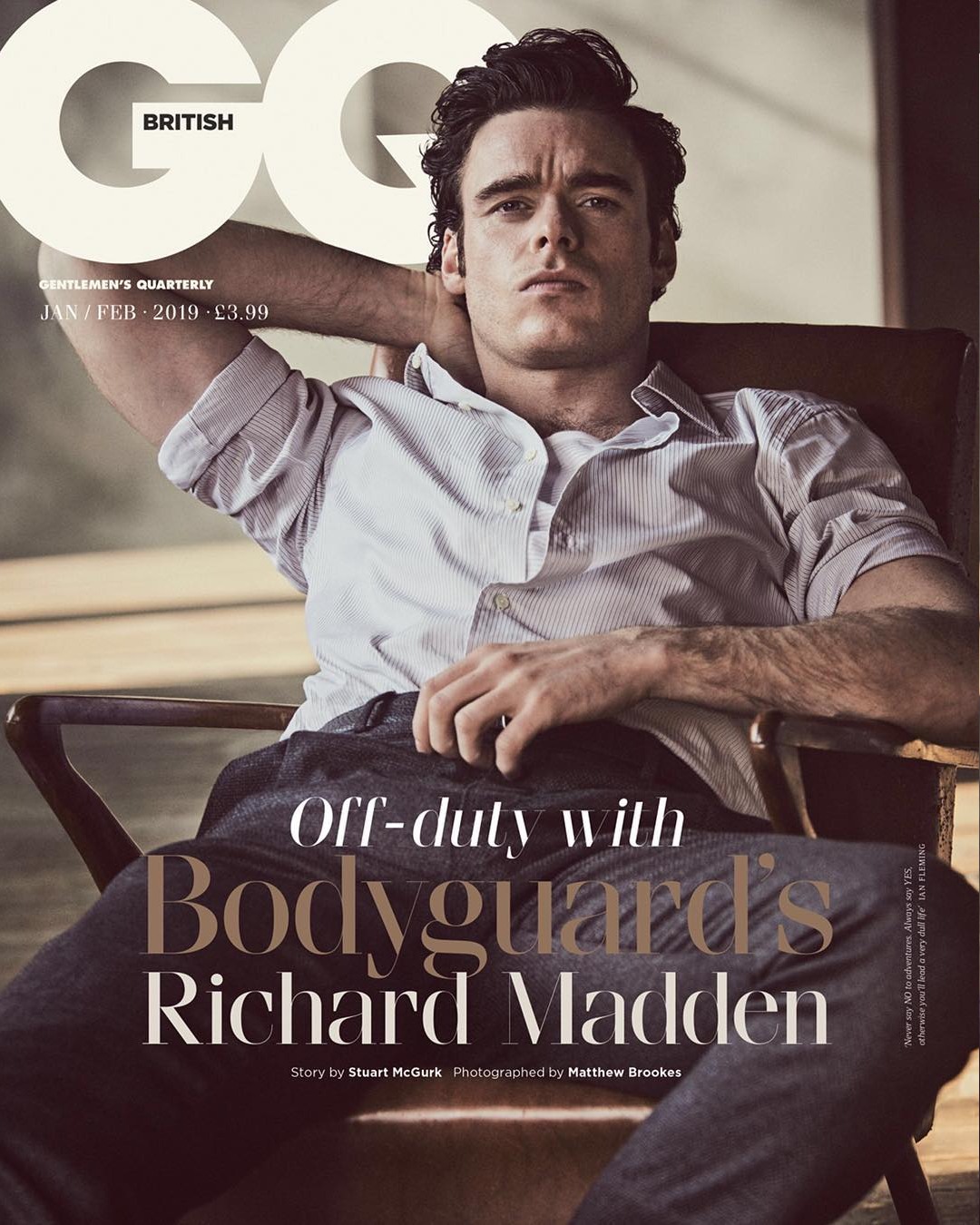 Richard Madden is everybody's bae these days, years after he (spoiler!) was killed off of Game of Thrones. Madden seemed to struggle a bit post-Thrones, working consistently for several years but not doing anything particularly notable. Then he got the lead in the BBC series Bodyguard. And now he's everybody's bae. British people went crazy for Bodyguard, and Americans got to see it on Netflix, and it was popular here too (but not as huge as it was in the UK). So Madden sat down with British GQ to talk about Bodyguard, Game of Thrones, and those pesky James Bond rumors.
On finishing the first season of Bodyguard: "Yeah. I finished Bodyguard and didn't want to act again. Really. It had taken so much out of me physically, mentally and personally. I didn't see any of my friends for months, unless they came to set. It was just relentless. You didn't get a day off. My character doesn't get a second off. It took more out of me that anything else I've done."

It's actually realistic that bodyguards sleep with their 'principals': "It's funny. A lot of people online were saying, 'This is so unrealistic that they would have got together and ended up having sex.' The bodyguards I spoke to, without naming certain names, were like, yeah, totally f–ked their principals. You get really into it with these people. So those things definitely happen. There's a couple of stories… unrepeatable stories…"

When he was killed off Game of Thrones: "I sobbed and sobbed on that Friday. I was hysterical actually. I was so exhausted. I cried all the way home." The air stewardess kept asking if I was OK. "And then people moved and the rows behind me moved. I was sobbing and covered in blood. I looked like I'd murdered someone and got on that flight."

He wasn't mad about leaving GoT: "No. I was ready to leave when I did. It was five years from the pilot until I finished filming. For any actor, five years is too long to play a part. I didn't feel cheated at all. I was ready to leave."

On the James Bond rumors: "My first reaction is always the same reaction, which is the papers make up a story on a Sunday so they can discredit that story on the Monday so they can sell papers on both days…. this is what happens with all these shows, like Tom Hiddleston in The Night Manager. Then there's the next one. I'm the next one. Everyone just loves the rumour mill on that topic. I'm just the current one. There'll be a different one next week."

Whether he's flattered by the rumors: "Lovely. I'm more than flattered to be mentioned, for people to consider putting me in that role. I'm very flattered and thankful. It's a really brilliant thing to be in. I don't want to curse anything by saying anything. I think that's the curse of that. If you talk about it, you'll curse it."
I liked the part about how he did research with real-life bodyguards and they were all like "oh yeah, we totally slept with the person we were protecting." Kevin Costner really would have slept with Whitney! And Princess Diana really did have an affair with her bodyguard too, didn't she? I do think it's probably more common than people realize, especially in royal circles and Hollywood circles. As for the Bond rumors… I mean, he's right. He's just The Guy this month. There will be a different guy soon enough.
This video is NSFW but it's charming too – Madden watches and discusses the infamous Red Wedding scene from Game of Thrones.
Cover courtesy of British GQ.