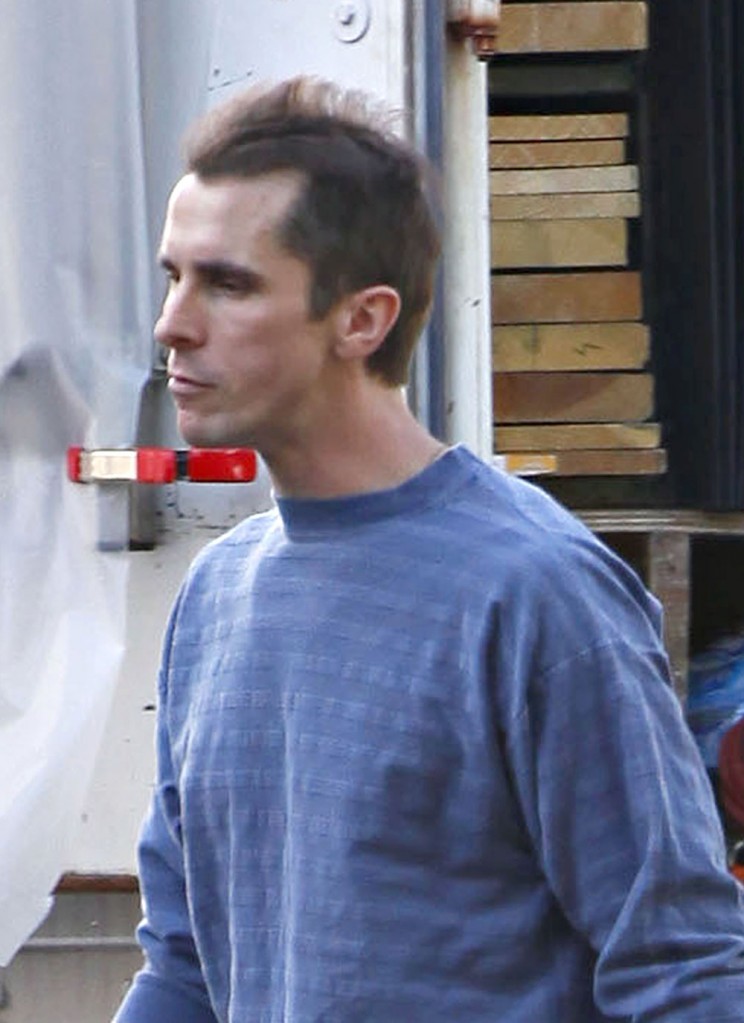 Christian Bale, 35, lost a third of his body weight for his role as a troubled industrial worker in 2004's The Machinist. He dropped 63 pounds on a diet of just coffee, cigarettes and an apple a day. He said of his massive weight loss that it was a goal he was determined to meet. "I wouldn't have done that amount of weight loss if I hadn't thought the movie itself was worth seeing. It was kind of a goal that I wanted to achieve and prove to myself I could manage."
Five years later and Bale looks super skinny again. He was photographed on the set of his film "The Fighter," a true life tale about a boxer from Massachusetts who ended up addicted to crack cocaine. The film also stars Mark Wahlberg as his younger brother, boxer "Irish" Micky Ward, and Amy Adams:
Christian Bale has been a master of reinvention when it comes to transforming his body for his various roles, but the sight of the gaunt Welsh actor Monday afternoon on set of "The Fighter" raises suspicions as to the nature of his health. Though Bale is playing boxer-turned trainer-turned-drug addict Dickie Eklund in the film, his hollowed features seem extreme for a man who bulked up to play the muscly caped crusader in last year's Batman. Bale is a notorious method actor and lost a staggering 63 pounds for the film The Machinist only to regain it all back and then some for the first Batman installment. Is his metabolism and ultimately his health being adversely affected by the excessive weight fluctuation?
[From Fame Pictures' photo description]
Bale is clutching an apple in these pictures. Is that all he had to eat that day? The film is set in the early 80s and I love the outfits Bale and Wahlberg are wearing. As grumpy as Wahlberg is, he's one of my favorite actors and I loved the tough but honest cop he played in The Departed. I'm kind of "meh" on Christian Bale, but he did make Batman watchable again. He's definitely committed to his craft, you can say that for him.
It's hard to tell if The Fighter will be a great film or not – it's directed by David O. Russell (I Heart Huckabees, Three Kings) and written by Paul Attanasio ("Homicide: Life on the Street," The Good German) and Lewis Colick (Beyond The Sea, Ladder 49). It's not out until 2011, and Bale will surely be looking back to normal by then.
Thanks to Fame Pictures for these photos