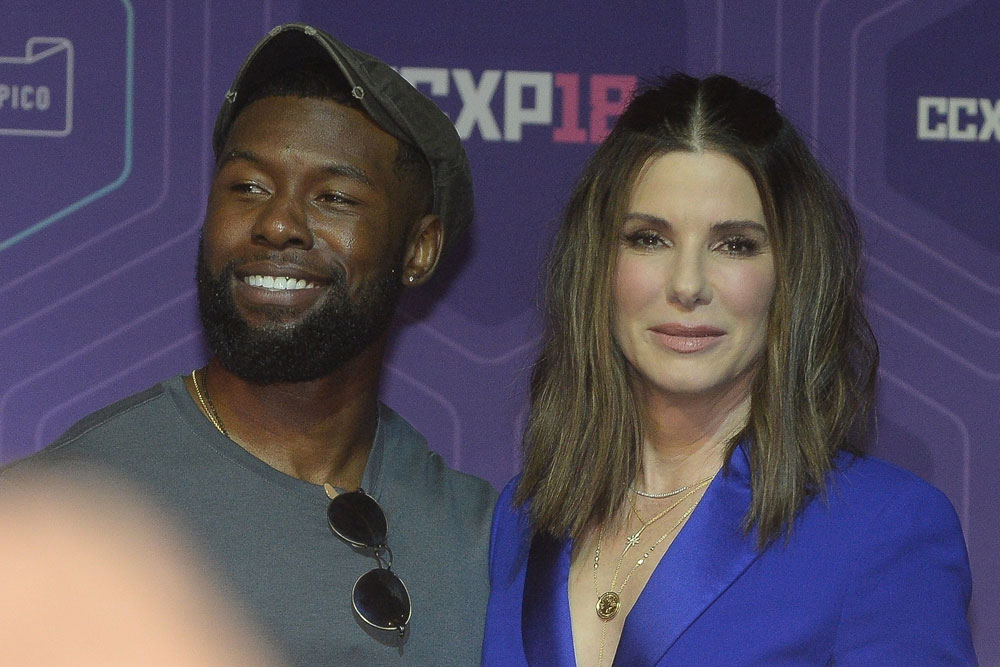 Sandra Bullock has been doing the press circuit for her upcoming Netflix film, Bird Box, where she plays a mother during a post apocalyptic time when people's sense of sight can become deadly. She was asked what kind of parent she is and if that informed her role. You can see the video below and here's what she said.
I now realize what it feels like to be afraid every single day because I love my kids to the point where I'm a little neurotic. What's happening out in the world. Am I a good mother? When you leave my house, they go to school. I check my phone constantly, did the school call? Are you going to get hurt? They're leaving with somebody else. I panic. I have to learn how to relax within a world that spins that kind of worry and remind myself and my children that it is also a hopeful place.
After that Sandra pointed to her costar, Trevante Rhodes who was sitting beside her, and said that he has a fearlessness that her partner/boyfriend "has as well." She said she doesn't have it and "I'm afraid. I want to make sure that I do everything in my power to protect these beautiful children that I've been blessed to raise." Later on, in the studio, interviewer Sam Rubin said that it's probably the first time Sandra has referred to Bryan Randall as her boyfriend. They've been together since 2015 and I can't confirm that she's never called him her boyfriend in an interview before.
As for Sandra being afraid, people forget that a stalker broke into her home in 2014, when her son, Louis, then five, was not there. (It was reported that Louis was with his nanny.) She went into her bedroom, locked a safe door she had specially built after a threat by another stalker, hid in the closet and called 911. I don't think the intruder had any weapons with him at the time but a raid on the man's home found multiple machine guns. After that Sandra got a German Shepherd for protection and increased her security. The stalker committed suicide earlier this year during a standoff with police at his home. So this isn't an abstract idea for Sandra, she's had legitimately scary things happen to her. I don't blame her for not bringing any of that up, I wouldn't and maybe I wouldn't even think of it during a quick interview. It's not like Sandra is scared due to the news, she's protective of her children and that's understandable after what she's experienced. Plus she's famous and is a target.