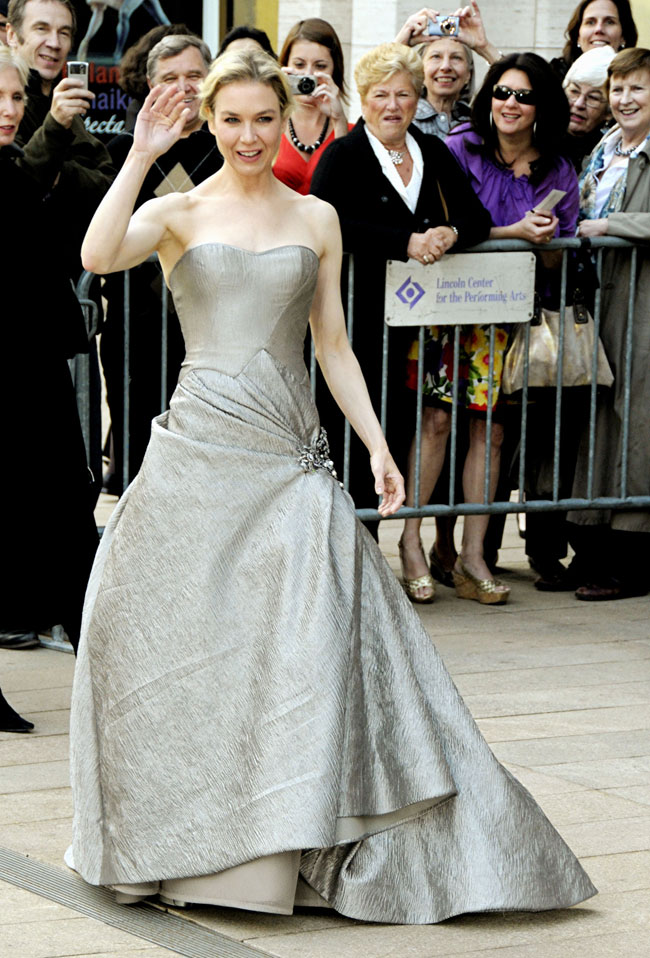 Confession time: I actually love the Bridget Jones books and films. Even though I thought both the sequel book and film were rather cheesy, I still like the Bridget character, and I like how Renee Zellweger plays her. Although Renee has been in several films I adore, I tend to think Bridget Jones might be the one character Renee has created that will stand the test of time.
The whole Bridget Jones franchise has probably accumulated somewhere in the vicinity of $400-500 million. It's like the girly version of Die Hard. And Hollywood kept churning out those Die Hard films, so I guess they thought, why not churn out another Bridget Jones movie? That's just what Variety (story via People) is claiming:
Haul out the biscuits and gravy, crispy duck, Snickers, milk shakes, pizza and butter-soaked potatoes – Renee Zellweger's very special diet to get in shape to play Bridget Jones, because the Oscar winner is prepping to play the full-figured singleton once again.

Zellweger, 40, is expected to start filming at the end of this year what will be the third installment about the love-starved British publishing executive, Variety reports.

This time, the story will likely focus on 40-ish Bridget's desire to have a baby before time runs out, as based on author Helen Fielding's weekly newspaper columns for Britain's the Independent, says the showbiz trade publication.

The Oscar winner for Cold Mountain, who was nominated for 2001's Bridget Jones's Diary and also starred in the 2004 sequel, Bridget Jones: The Edge of Reason, recently spelled out what she desires in a man, saying: "I'm looking for an encyclopedia and a dictionary. A bit of the Boy Scouts Handbook. A person who is conscientious about the trail he leaves behind him. Love. Unconditional kindness."
[From People]
Lord, I really hope Colin Firth comes on to this one… and why wouldn't he? Bridget better be trying to have a baby with Mark Darcy and not Daniel Cleaver. Personally, I love how smarmy Hugh Grant is in these films (and probably, in life) but it always bothers me how Bridget can't see what a wanker Daniel is. He always sweet-talks her. It sucks, but it's probably realistic, I suppose.
So, what do you think? Is the Bridget Jones character stale? And even if it is, shouldn't women have the same opportunity to see a girly franchise like the guys had with Die Hard? Will Renee still looks cute (perhaps better) with the added weight?
Renee Zellweger is shown at the Metropolitan Opera on 5/18/09. Credit: WENN.com. Other photos are from the 2004 Bridget Jones sequel Bridget Jones: The Edge of Reason thanks to AllMoviePhoto