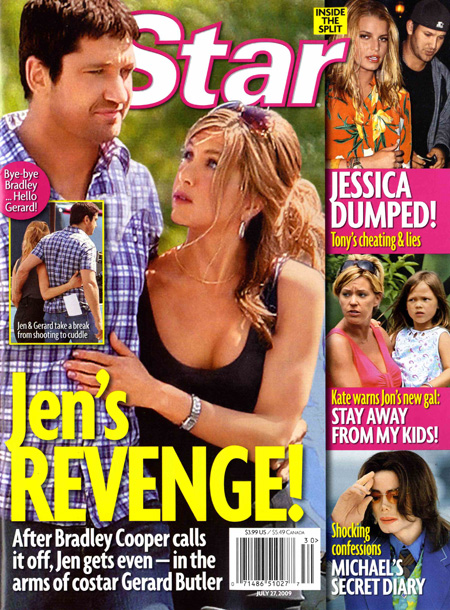 Well, we knew this one was coming, didn't we? After two weeks of stories about how Bradley Cooper totally shafted Jennifer Aniston with the whole "just friends" thing and the date-with-Renee Zellweger thing, we now have Star Magazine's cover story: "Jen's Revenge". Which sounds like a horror film. And I think "Jen's Revenge" has been used several dozen times for tabloid covers over the past four years.
Anyhoodle, "Jen's Revenge" is apparently having sex with Gerard Butler. Personally, I think having sex with Gerard would be a reward unto itself, without adding any "I'm going to get back you, Bradley Cooper" revenge fantasies into the mix. The cover photo is from yesterday's "candid" paparazzi shots that seem… posed. TMZ and Lainey already pointed out that this Butler-Aniston pose is identical to the Pitt-Aniston pose in Mexico, just before their separation was announced. But let's not let the photo op get in the way of a good story:
Jennifer Aniston's not wasting any time when it comes to finding a new man. After a failed fling with Bradley Cooper, she's already moved on to her sexy costar Gerard Butler!

"Let me put it this way," says a source on the New York set of their movie, The Bounty. "They're both hot and single! After they finish a scene, they stick around so they can hang out with each other. Neither is in a rush to leave."

In fact, Jen and Gerard are so affectionate on set, sources tell Star, that they often practice kissing scenes even after the cameras stop rolling! "Jen will say, 'I think we need to do that again,'" the source says. "She says Gerard's a great kisser."

The pair have adjoining trailers, and they've been seen dashing off to Jen's haven for a private "lunch." During one recent visit, Gerard stayed in Jen's trailer for 30 minutes.

And the chemistry doesn't fizzle after work, an insider adds. The new couple have even continued their heated make-out sessions in Gerard's hotel room! But insiders aren't surprised, noting that the romance has been almost a year in the making.

"Gerard's been after Jen ever since they met at the Toronto International Film Festival in September 2008," a source tells Star. "He really has a thing for her. He wants to date her, not just have a fling — or at least that's what he is telling her! He has a reputation for being the biggest cad in Hollywood, and Jen knows that. She said no to him for almost a year, but he never gave up."
[From Star Magazine]
You know what gets cut out of the picture on the cover? Gerard is carrying a plate and fork in his right hand. He was eating when Jennifer persuaded him to walk arm in arm with her! Did she whisper, "This will be the cover shot! It will help you promote The Ugly Truth!" As far as whether or not Gerard and Jennifer are actually hitting it, I think the chances are pretty good, even though he denied "getting cozy" with Aniston in his Esquire interview. My guess is that, at the very least, Gerard and Jennifer are very friendly and he's happy to be associated with her romantically.
Header photo via CoverAwards