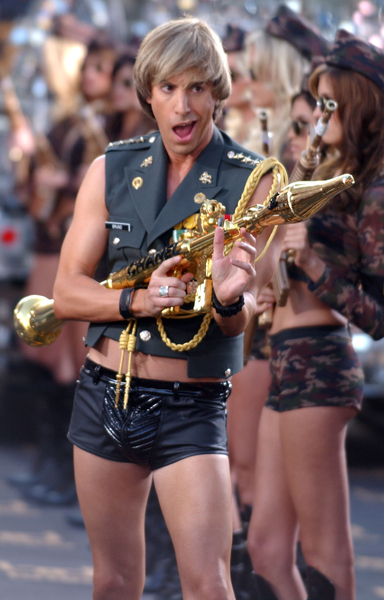 Yesterday we heard that a supposed "terrorist" briefly interviewed in the new Bruno film wasn't a terrorist at all and claims he was misled into thinking that he would be interviewed by a German filmmaker trying to shed light on the situation in Palestine. (Documentaries and educational films are very popular on German television and this undoubtedly seemed like a legitimate request.) When Cohen brought up Osama Bin Laden, the "terrorist"/Palestinian rights organizer got offended and told him to leave. Now that the film is out, the guy is very upset and says that his image was misused and that he may sue.
Not only is the guy featured in the movie offended, the terrorist organization that Cohen incorrectly claimed he belonged to, Al Aqsa Martyrs Brigades, has issued a pretty scary statement saying that the film was a conspiracy against them and that "We reserve the right to respond in the way we find suitable against this man." Uh-oh:
The Al Aqsa Martyrs Brigades, the terrorist group depicted in the film "Bruno," is "very upset" their group's namesake and former member was featured in a film about a homosexual character that includes graphic depictions of homosexual sex.

The group, as well as individual members, released a statement to WND that includes a veiled threat against the movie's star, Sacha Baron Cohen:

"We reserve the right to respond in the way we find suitable against this man (Cohen)" said the statement.

"This movie was part of a conspiracy against the Al Aqsa Martyrs Brigades," continued the statement, released through a senior member of the group in the West Bank.

"According to what we checked there was no meeting about the real context of the film. This was a dirty use of our brother, Aiman, and we don't accept that the name of the Al Aqsa Martyrs Brigades is part of the film."

Aiman is a reference to Ayman Abu Aita, who was interviewed in the movie "Bruno" and labeled as a "terrorist leader" from the Brigades division in the West Bank city of Bethlehem. Aita told WND yesterday the movie mislabels him and that Cohen conducted the interview under false pretenses. Aita said he is pursuing legal action against Cohen.

The Brigades statement claimed that "Aiman is part of the political level of Fatah in Bethlehem, part of the leadership of the political apparatus of Fatah. He is not a member of the Brigades."

The Al Aqsa Martyrs Brigades is the declared military wing of Palestinian Authority President Mahmoud Abbas' U.S.-backed Fatah party. The Brigades is responsible for scores of suicide bombings, shootings and deadly rocket attacks against Israeli civilian population centers.

Several Al Aqsa Martyrs Brigades leaders responded to the use of their group in the "Bruno" movie.

Abu Philistine, the current leader of the Brigades in Aita's hometown of Bethlehem, told WND, "This was a trick against Aiman. We don't want to be part of this movie"

Jihad Jaara, the infamous exiled chief of the Brigades in Bethlehem, called Cohen "not funny" and said his film was "stupid."

"I'd like to tell Cohen if you like to be funny you are not. You showed the world how stupid is this film," Jaara told WND. "We don't need for Cohen to show us to the world in a homosexual film. That made us very angry at him."

Continued Jaara: "If he wants to make a real film, then come to the Palestinian territories and see how children are dying every day at the hands of the Israeli occupation.

"I heard about this film and I felt very shamed when I heard about it," added Jaara.

Jaara was the notorious director of the 2002 siege of Bethlehem's Church of the Nativity who served as the Bethlehem-area chief of the Al Aqsa Martyrs Brigades terrorist organization during that time.

Many senior Al Aqsa Martyrs Brigades leaders were granted amnesty by Israel in 2007 in an American-brokered gesture to bolster Abbas. The group, therefore, could not release an official pamphlet against the movie since the Brigades has not been releasing pamphlets. Also, some Brigades leaders warned that Abbas' Fatah party may try to distance itself publicly from the statements against Cohen.
[From WND.com]
I saw Bruno this weekend, and I can't remember if Cohen specifically mentioned that group in the film. He did bring up their name in an interview on Letterman last week though, and it's pretty likely he claimed that the guy he interviewed was in the group, especially considering how seriously they're responding. You don't want to piss off a group of suicide bombers! The film could have been just as funny without that scene, and they probably should have cut it. It must have been a huge expense to go to the Middle East and they didn't have much else to fill out that part of the story, though.
The film was really raunchy, and included several scenes of jaw-dropping, offensively portrayed gay sex along with real straight sex (with bars to block the naughty bits, but it was clear what was going on) and full frontal male nudity. Just about anyone could conceivably be upset to be associated with that film. It's also not for kids or teens at all. Universal wants to make sure they maximize ticket sales and have cut three scenes to a offer a new teen-friendly UK version of Bruno in order to score a "15″ rating. The original film has an adults-only "18″ rating. There are at least four scenes that I can remember that should really be cut to sanitize it, but many people would argue that no version of the film is appropriate for under-18. It's obnoxious through and through, and that's why it's so successful.
Cohen is shown at the LA premiere of Bruno on 6/25/09. Credit: PRPhotos