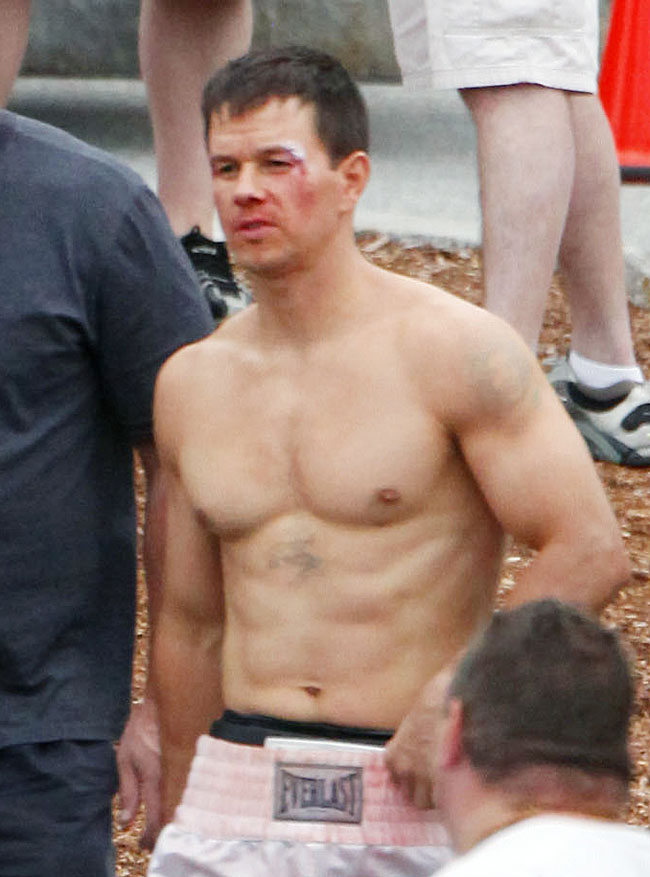 I sat through the 2001 Planet of The Apes remake silently praying the whole time that Mark Wahlberg would take his shirt off in at least one scene. Even when his damn space capsule crash landed in water, Wahlberg didn't remove his shirt at all, nor did he wear a white shirt that got soaked to the best of my memory. It's a shame, because that crapfest could have been moderately improved with several scenes of Wahlberg's rippling abs.
It's nice to see that over 15 years since the Marky Mark "Good Vibrations" video and Calvin Klein underwear ads, the 38 year-old father of three is still in top condition. Wahlberg wore some boxing shorts and little else except fake facial injuries on the Massachusetts set of The Fighter, the true story about two boxing brothers from South Boston who went out to face hard times when their careers ended. Yesterday we saw photos of Christian Bale looking shockingly thin on set. He plays Wahlberg's half brother, who became addicted to crack.
Wahlberg plays "Irish" Mickey Ward, and according to Wikipedia the retired boxer is "best known for his trilogy of fights with the late Arturo Gatti" in the mid-90s. Ward's older brother, Dickie Eklund, fought against Sugar Ray Leonard in 1978, and it looks like Leonard has at least a cameo in the film, as he was photographed on set. The film also stars Oscar nominated actresses Amy Adams and Melissa Leo. Leo is shown looking classy with poofy hair and a white button-up dress in the photos below.
Thanks to Fame Pictures for these photos, taken on set yesterday