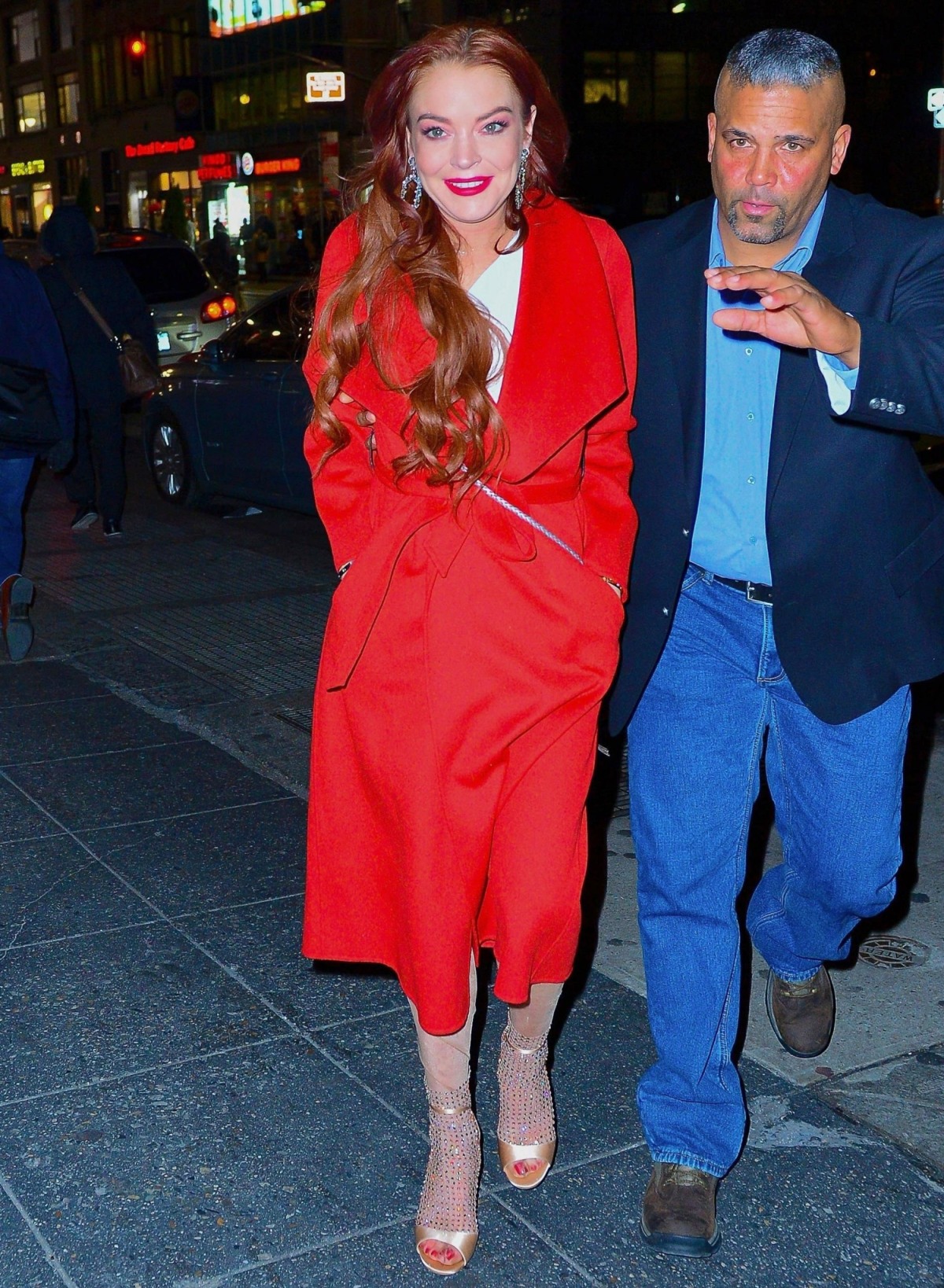 Lindsay Lohan's MTV reality show, Lindsay Lohan's Beach Club, debuted last night. It didn't feel like she really did that much advanced promotion for it, as she was only seen out and about on the day the show premiered, and that's when most of her interviews dropped too. What I'm enjoying about this haphazard-seeming promotion is that… no one seems to be whitewashing Lindsay or pretending that everything is just fine with her. She sat down for an interview with Variety, and in the lead-up to the interview, Variety noted that "Her last theatrical movie, "The Canyons," came out six years ago, and even independent directors stopped casting her because she wouldn't show up to set." Variety also notes that "One sign of how many bridges she's burned: Several of her former colleagues declined to be interviewed about what it was like to work with her." Ouch. This comeback is rocky AF. You can read the full interview here. Some highlights:
She was thrilled the first time she saw herself in a tabloid: "The first time I was in a tabloid. "I was like, 'Oh, my God, I feel like Britney Spears!' because she was in a tabloid and I felt cool. Little did I know what would happen from there."

Why does she think people refuse to hire her: "I think there's a misconception that people still have about me, and I think it's unfortunate. Hopefully, this will change people's perception once and for all.

Her mistakes were so long ago, you guys: "Ten years ago. I just don't want to seem like a martyr. But it's in the past. I always say to people, "You do realize that was over 10 years ago?" But it was definitely unfair and unjust at certain times, especially as a girl. I worked at the morgue…. I've been through the ringer. It was horrible. But from those things, I became a lot stronger.

Whether there is a "Disney curse": "I don't feel cursed… It was different then. There was less protection. So maybe that was the struggle. People know you so young and people are chasing you, and then instead of going to college, you have a month or two months off and you want to go to a club and that's "bad." I don't think there's any curse with Disney. That's just a dark thing to say. If anything, it was a blessing, because we're all still here.

What Hollywood needs to do to bring about equality: "Stop giving me s—! Stop rehashing my past for no reason, because everything is different now."

Whether she misses living in America: "Yeah, of course. I miss seeing my family. But my brother comes out every other month, and my sister is coming back with me. My mom came to Mykonos, but she didn't want to be there when I was filming. We make time to see each other, and I talk to them every day when I'm in Dubai at odd hours whenever they call.

Her career goals: "To work with Martin Scorsese. Work with Spielberg. I don't know. I think goals are limitless, and there's always going to be something new that I want to do. I just want to make people happy, and I want to stay happy.

Whether she considers herself a feminist: "I'm just Lindsay Lohan. Whatever that is.
Prepare yourselves, because I'm about to give Lindsay credit for something: I appreciate that she's not trying to build a comeback for herself with a narrative of "I was victimized and bullied." Lindsay really isn't anyone's victim, that's not how she sees herself or defines herself. No, her comeback is built on "it happened a decade ago!" Spoiler: a lot of that stuff happened more recently than a decade ago. The multiple trials and rehab stays and court proceedings and crack shenanigans were still happening in 2011, 2012, 2013, etc. Also: I laughed so hard at her answer about equality in Hollywood. Yes, the only thing keeping women from being equal in Hollywood is "people giving Lindsay sh-t for her past."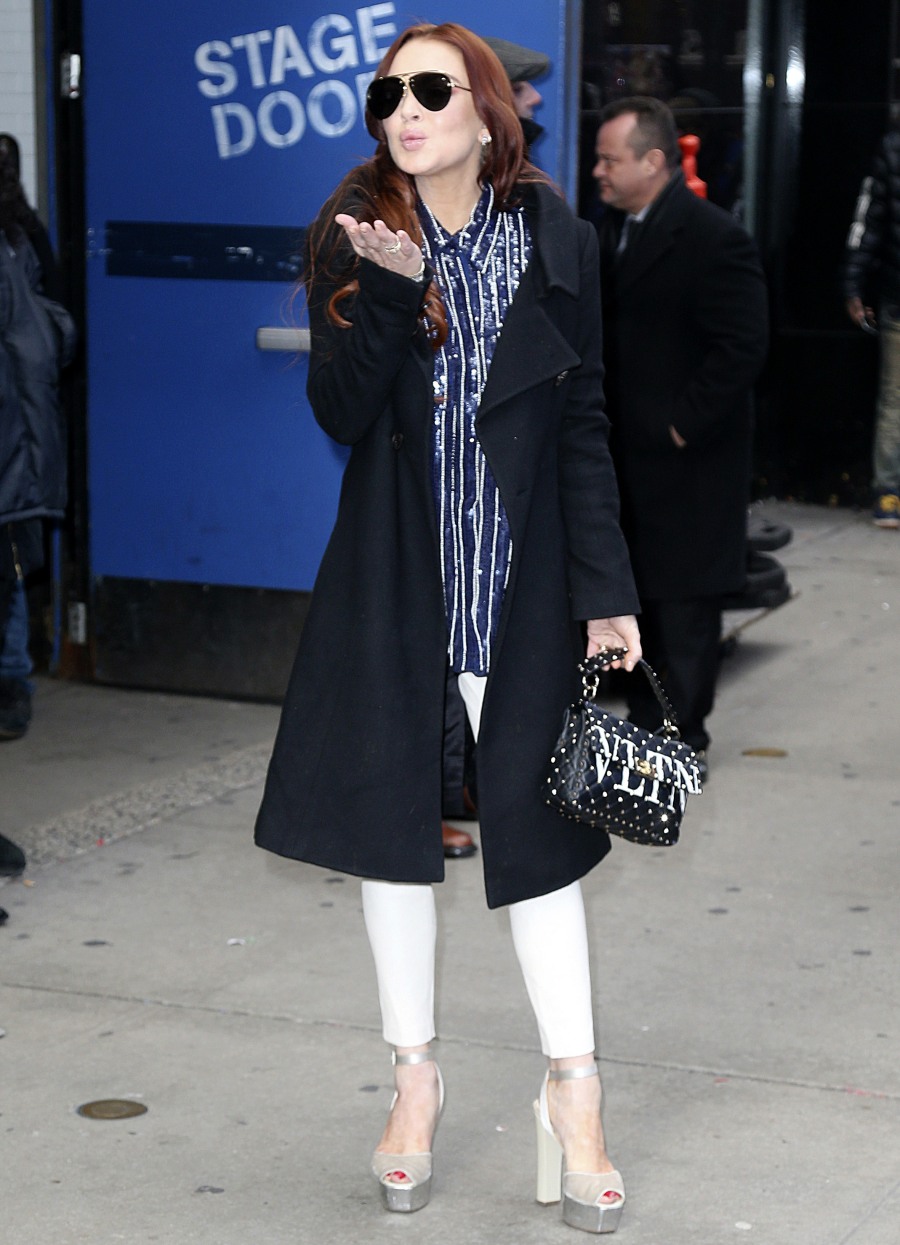 Photos courtesy of Backgrid, WENN.