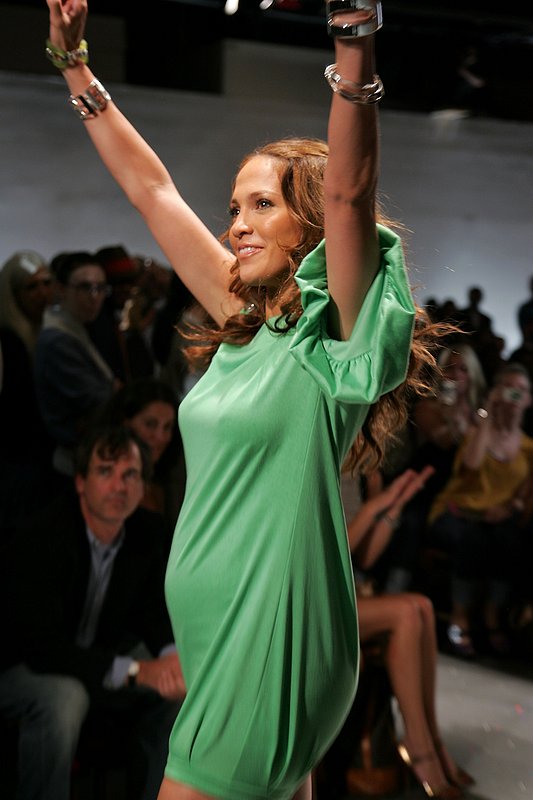 So, the Jennifer Lopez pregnancy rumours are circulating again – the poor woman probably just had a big glass of champagne before walking down the catwalk. That's what the baby bump was. Or at least, that's what it seems to be according to husband Marc Anthony.
"Everyone calls about this every month with the hopes that they'll hit the mark — but no," Anthony's publicist said.
So, he didn't mention the champagne theory. But I like the fact he mentions that people call every month with the rumour wanting it confirmed or denied. Is Marc Anthony suggesting we're following his wife's ovulation cycle?
Some reports have had Jennifer pregnant with twins, even offering detailed stories of ultrasound results and fertility treatments, but I personally like her attitude about not having a baby until God is ready for her to. Particularly since we all seem to forget she's that other special kind of mommy – a stepmommy to Marc Anthony's three children.
Jennifer is very busy right now, promoting her new album, but is also keen to perform with the Spice Girls.
According to the Sunday People, the singer said: "I'd love to get back out there on tour and I'd really like to perform on the same stage as the Spice Girls."

Speaking about Victoria Beckham, Lopez said: "Even before we were friends, Posh was always my favourite."
She might not be preggers right now, but if she hangs out with that fertile bunch of mummies it won't be long. It's contagious, right?
Thanks to PopSugar for the header image.