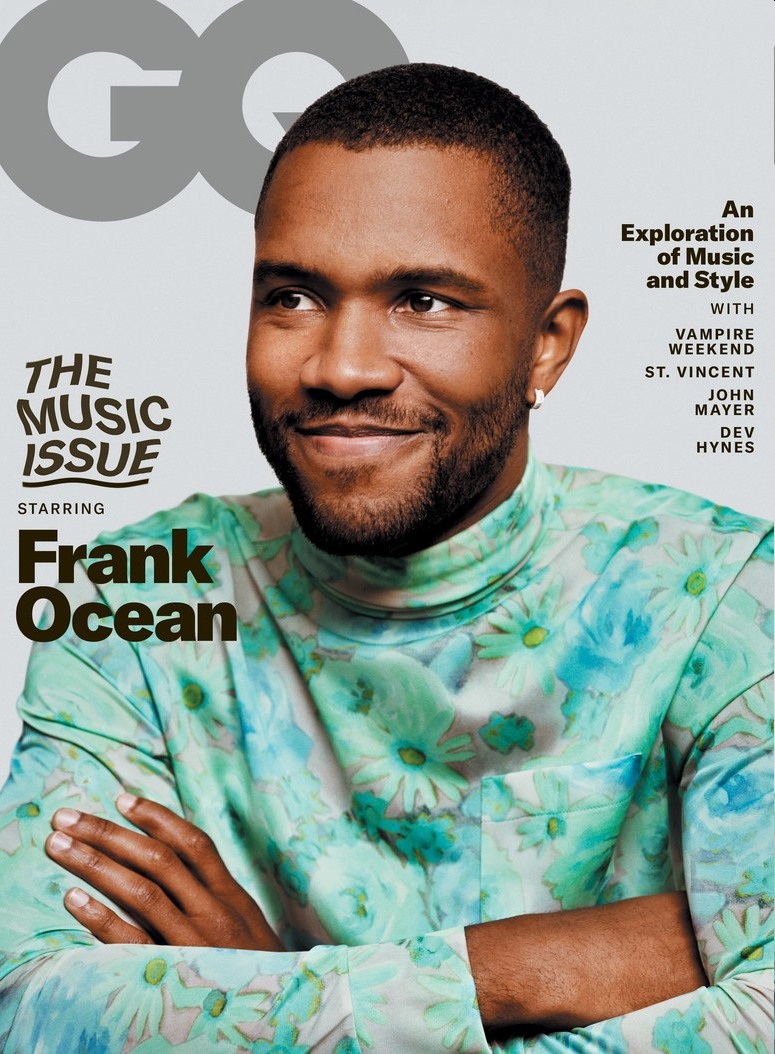 Frank Ocean does his own thing and it's brilliant. It feels like Ocean doesn't have any enemies, he only has friends, admirers and fans. He can easily fly under the radar, or instantly trend on Twitter, all depending on his whim of the moment. Ocean sat down with GQ at the end of 2018, in a piece that was just published a few days ago. The interview is mostly about Ocean taking stock of the year, previewing what he's got coming up in music and fashion, and his general vibes right now – he's moved to New York full time, he's exploring the art world, he's working and making friends and all of that. You can read the full piece here – I wanted to cover this because he's really funny and charming, and I loved what he said about MSNBC and skincare.
His work during the midterm elections: "The stakes feel higher now, yes. I was excited about the idea of incentivizing people to vote and to get excited about midterms, because people aren't usually excited about voting at midterms. Getting seven or eight thousand people who might not have otherwise voted to participate like that is a testament to what public figures can do or encourage with their voice. It feels responsible, especially at this time. Maybe also at many times prior, but it feels less like responsibility and more like a great opportunity that I had and still have… there was a lot of seats in the House picked up, types of people who hadn't been in those positions before, which was beautiful. It was a success when I look at it—it felt like something I'd like to continue doing.

His skincare routine: "Man, listen…some days, like today, I feel very beautiful. But some days, like in the winter, when I wear a lot of knit hats, my skin doesn't like that. My mom told me years ago that you gotta get somebody to stitch the silk inside the lining of the cap so it doesn't irritate your skin, 'cause your skin is sensitive. I didn't listen to my mom, but I really do believe in a night cream. I feel like men just go to sleep. They may wash their face or they don't even bother—they go to sleep with the day face on. You really need to do a gentle wash and put a night moisturizer on. You can't have the retinol in your creams in the day because it makes you more sun-sensitive, so you wanna throw that on at night. I need the night cream because when I wake up I feel very beautiful, moisturized and ready to have people making eye contact with me, ready to look above my eyebrow, below the eyebrow… That's the life hack right there. It's been all these years, and Pharrell still hasn't given us the keys yet. He just says "exfoliate," but it's not just "exfoliate": We need more keys.

His vice: "Maybe my vice is that I watch way too much TV news. I know that I'm not getting real information, but I still watch it. I wish my vice was VH1 reality-TV shows, but it's not—it's MSNBC. MSNBC is Love & Hip Hop with better vocabulary and more range, but it's the same thing. Very much entertainment.
I really love that Frank Ocean is out here, being an advocate for men's skincare. I love that he's advising men to try a good night cream, and that he's pissed about Pharrell not spilling more details about HIS skincare routine beyond "exfoliate." Exfoliate, moisturize, use a day cream with SPF and a night cream, and maybe something special specifically for your eyes. Also? Take care of your lips – they need to be moisturized and hydrated too. I would really love to sit down and talk about all of this with Frank Ocean. I wonder what kind of night cream he uses? Do you think he's going for Kiehls or something fancier and more expensive?
As for what he says about his vice being cable news… the news IS a soap opera, only it's really happening and it's awful.
Cover & Instagram courtesy of GQ.