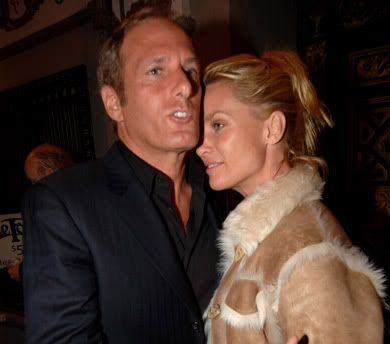 On March 9th we reported that Nicolette Sheridan bought a wedding dress. The official news now is that Sheridan and Bolton are engaged. We figured you wouldn't really care so it took us a little while to report it.
Rumours began circulating that the pair were more than just friends when the blonde bombshell was parading around with a huge rock on her finger at a post-Oscars party.
A representative for the actress, who plays Edie Brit in Desperate Housewives, confirmed Nicollette is engaged.
Although they dated before in the early 90s, Sheridan has only been with Bolton since Christmas of last year. What are they thinking? You don't get engaged after three months, especially if you're famous. This will be a trainwreck.
Here are pictures of the two in Miami Beach on 3/11/06. Who wears a shearling jacket in Florida?