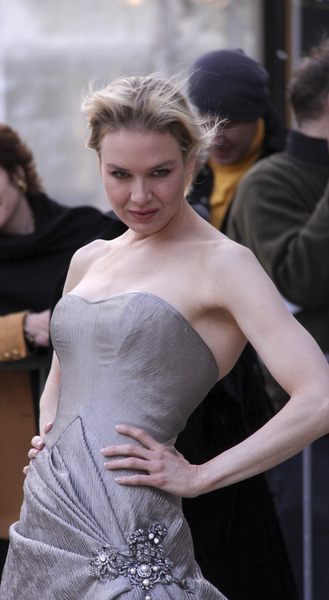 Renee Zellweger is said to be so paranoid about dirt and bacteria entering her home that she insists that all visitors don hospital booties before they step foot inside. This story comes from Star Magazine, so it could be a load of crap, but it's so random and unlike a typically fabricated story that it seems like there's some credence to it:
Renee Zellweger… is so worried about hygiene, she asks everyone who enters her house to put hospital booties on their feet – even if they're wearing socks! "Renee believes that shoes are frequently contaminated with dirt and dangerous bacteria," an insider tells Star. And while Renee's friends think it's over the top, "they end up having a laugh when they go sliding around on her slippery floors!"
[From Star Magazine, print edition, July 27, 2009]
A lot of people are going to say Renee is strange and a germ-a-phobe, but as an American living in Germany where this is normal I have to disagree. It's considered rude here to leave your shoes on when you go to someone's house and most people have guest "house shoes" or slippers for people to use when they visit. I found this hard to get used to, but now it's become kind of a habit. This isn't just a superstition – shoes really can bring a ton of bacteria and disease into the home.
We looked at a home last week where the realtor brought those blue hospital booties with him and we all put them on so we wouldn't get anything dirty. A guy from the phone company came over yesterday and he insisted on taking his shoes off even though I told him not to bother. It's just what they do here, and is a definitely a cultural difference. Renee's request may seem anal for American culture, but she'd be right at home here in Germany. Maybe she should move here and date a hot German guy who is just as concerned about cleanliness.
Renee Zellweger is shown at the 69th Annual American Ballet Theatre Spring Gala at the Metropolitan Opera in NY on 5/18/09. Credit: Wild1 / PR Photos