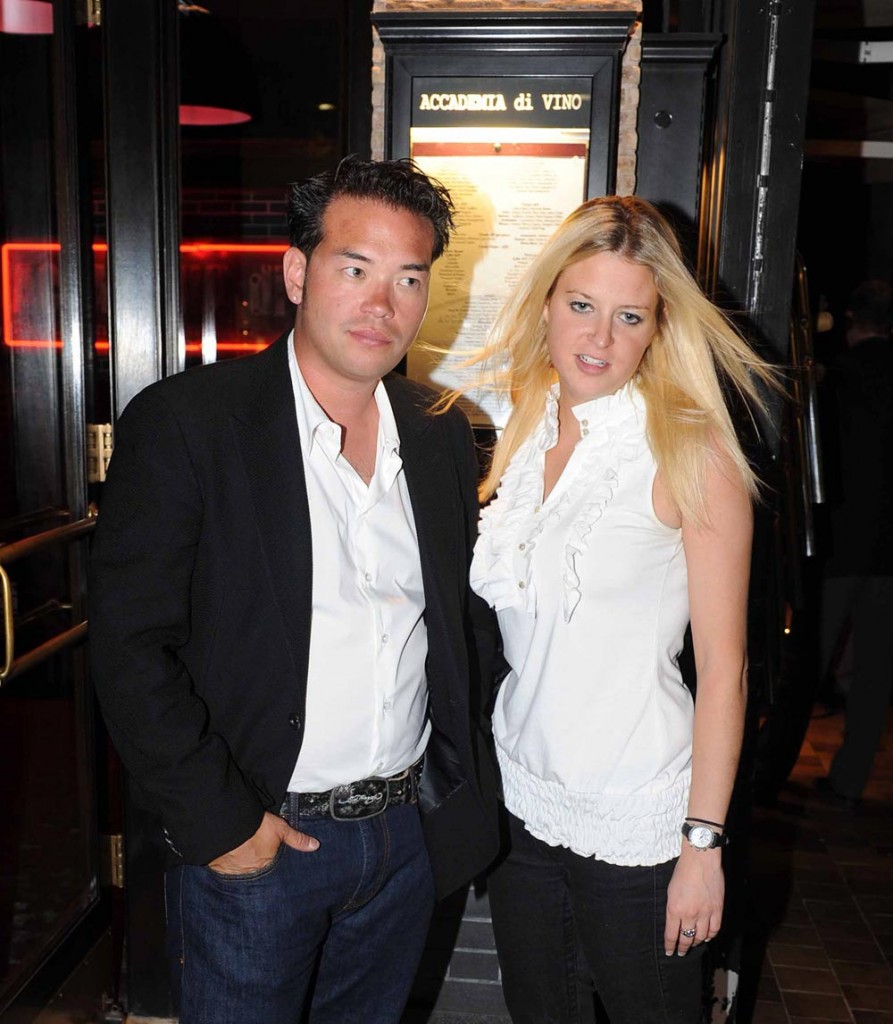 Jon Gosselin has purchased a two bedroom bachelor pad on the upper west side of New York City and was seen moving his stuff in over the weekend. The Huffington Post has Jon's address and what he's likely paying in rent – between 4-5 thousand a month.
Kate and her eight kids were seen in New York this weekend, where security at a building she visited got in some kind of altercation with paparazzi. Apparently paparazzi were gathered outside a photoshoot that the Gosselins were doing for TLC with other reality stars including the Duggar family. The photographers were harassing Kate and the kids, and security guards resorted to using tables, umbrellas and boards to hold the paparazzi at bay. Kate's security guards were not involved, according to this report, and were focused on guarding the kids:
Kate Gosselin's Saturday business trip to New York City turned suddenly – and briefly – sour when photographers trying to take her picture were blocked by security guards outside a photo studio.

Earlier in the day, Gosselin and her eight children had checked into a midtown Manhattan hotel to prepare for a TLC photo shoot that afternoon, which also included the Duggar family and the stars of the network's reality show The Little Couple.

Sometime after 3 p.m., Kate and her kids left the hotel and were followed by a pack of photographers. But when the group arrived at the City Stage studio in the Chelsea neighborhood, security guards attempted to keep the photographers back using umbrellas, styrofoam boards and folding event tables, according to an eyewitness.

Kate's own security detail tried to keep the children out of harm's way and rushed them into the studio. "It must have been very upsetting for the kids," says one observer.

Jon Gosselin was not seen during the disturbance. Earlier in the day, he was spotted moving belongings, including a flat-screen TV, into his new apartment on Broadway.

The New York Police Department's Deputy Commissioner of Public Information had no information on the incident, and efforts to confirm details TLC have so far been unsuccessful.
[From People]
Dad Jon is also in New York and was spotted out on what looked like a date with a tabloid reporter on Saturday night. There were four other people out to dinner with them and it looks like the journalist was more than happy to be photographed outside the restaurant with Jon. He seems mildly amused, and I would bet he's hooking up with her:
The "Jon & Kate Plus 8" star had dinner with ANOTHER Kate — Star magazine reporter Kate Major — at upper East Side eatery Accademia di Vino on Saturday night, and sources say that Major believes the two are becoming more than "just friends."

"Kate has a tendency to blur the lines between 'work' and 'friendship,'" says one source.

"This isn't the first time she's gotten close to someone she's reporting on."

The pal says that the senior reporter has gotten a little too involved when working on stories involving Lindsay Lohan and Blink 182 drummer Travis Barker.

Adds a second friend, "Kate was sent to Jon's Pennsylvania home on Thursday to report for her magazine, which is when she and Jon set up the Saturday meeting [while he was in town to do promos for his show with his soon-to-be ex-wife and kids].

"If it was simply a work thing, couldn't they have just spoken on the phone or met for coffee?

"Meeting a subject for dinner — on a Saturday night, no less — is a pretty bold move."
One eyewitness to Saturday night's date reports, "They looked very friendly. When they were leaving the restaurant, the paparazzi wanted to take photos of Jon alone — they didn't know who she was, but she got into the shot anyway."

Added a second restaurant patron, "Jon and Kate were there in a group of six people, but they came and left together, and sat beside one another all night."

Reps for both Gosselin and Star did not respond to calls for comment by deadline, but when we contacted Major, she did very little to kill any rumors.

"I have no comment," she commented.

"There was no date. Jon and I are just friends."
[From The NY Daily News]
So much for Jon's new girlfriend, Hailey Glassman. I wonder if Jon told her that he was having a business meeting on a Saturday night.
People Magazine has a new story from "a source close to Jon Gosselin" that claims that he didn't start dating Hailey until after Kate filed for divorce. The source is likely Jon himself, considering that he's on the cover of People with an exclusive interview this week. People's "source" also claims that Jon never cheated on Kate with Deanna Hummel. US Weekly had video of Jon sneaking out of Deanna's house in the morning along with statements from her brother that he overheard them having sex. Sure Jon was only friends with the girl. Why is People so willing to post his side of the story? Is an exclusive interview with Jon Gosselin really worth all that much?
Photos are from 7/18/09. Credit: INFPhoto.com