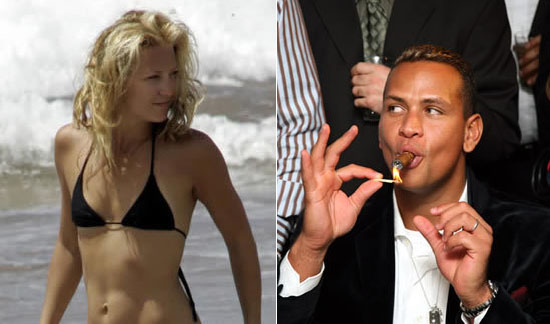 Kate Hudson tends to dive head-first into her relationships. She can also jump in and out of them pretty quickly, but it seems like she definitely puts her heart into them and doesn't hold back. Though it's obvious she and Alex Rodriguez have been dating for some time, neither of them have ever officially acknowledged the relationship – until now. According to Life & Style (and it is Life & Style, so grain of salt and all that), Kate called A-Rod her boyfriend at a dinner with friends – multiple times. Which was also funny because he was right there.
In case there was any doubt, Kate Hudson is making it clear that she and Yankees slugger Alex Rodriguez are officially an item, Life & Style has learned. On July 19, the couple dined with friends at seafood haven Lure in New York City, and Kate revealed to the table that Madonna's ex is now her boyfriend.

"Kate kept saying things like, 'My boyfriend this, my boyfriend that,' when referring to Alex," an insider tells Life & Style. "She was talking about him even though he was right there. I think the people they were with are Alex's friends, because Alex and the others were already there when Kate showed up around 10:30 p.m. A-Rod and his guests had gotten there closer to 9:45."

The couple have been dating for about two months. In June, Kate was seen at a New York Yankees home game rooting for Alex, and earlier this month, the duo were spotted dining together in New York. Soon after, they spent time with Kate's 5-year-old son, Ryder, at The Resort at Pelican Hill in Newport Beach, Calif.

"They were really cute and cuddly together," adds the insider. "You can tell Kate really likes him. They were whispering to one another, just acting like lovers!"
[From Life & Style Weekly]
That's actually really cute. All of Kate's relationships make me sort of nervous for her, because you can sense they can easily implode. It doesn't seem like she ever has bad intentions or is purposely reckless with other people's hearts. But it seems like few of them ever last longer than three or four months. On Friday Kaiser wrote that Alex treats Kate like a queen – and he's spoiling her son Ryder too. It's sweet that he cares enough to try to have a good relationship with her son, and it sounds like they're still very much in the lovey-dovey phase. Kate's obviously very happy, and hopefully that'll last.
Kate Hudson and her five-year-old son, Ryder, are shown below outside a Lakers game in LA on 5/17/09. Credit: Fame. Header photo thanks to Agent Bedhead.