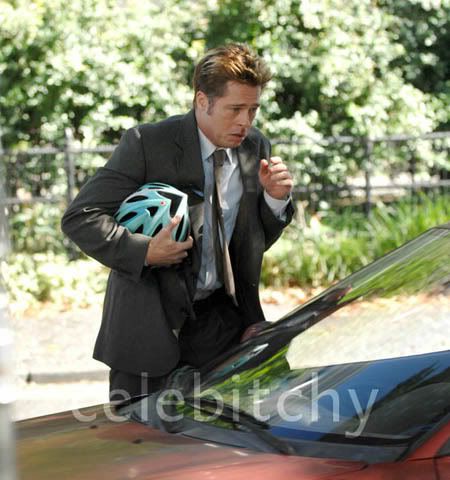 We here at Celebitchy don't consider ourselves to be tabloid writers, but we are certainly lovers of gossip. And if once in a while we quote a tabloid, so be it. Anymore the stories seem to turn out to be true more often than not. But we let you know when we think a story is likely a big bag of crap. So with the caveat that we're not talking including ourselves here, let's talk about the most recent celebrity railing against the tabloids: our beloved Brad Pitt. Brad is not a fan of the tabs. I have yet to hear of a celeb that'll admit to liking them, though a lot of them (ahem, Paris) seem to know that their careers depend on them. Brad's newest movie, "The Assassination of Jesse James by the Coward Robert Ford" brought the esteemed history of tabloid journalism into Brad's precious little noggin, and Brad being the socially, gossipy conscious guy that he is, felt it morally incumbent to let the rest of us know just how similar things were back in the day.
"While news about Jesse James crawled its way across 19th-century America — compared to today's lightning-fast Internet — the tone was uncannily comparable to today's celebrity coverage, Brad Pitt found in reading those old accounts.

"'I will say, I was surprised to see how tabloid journalism was alive and well even then and operating in the same way, just sensationalizing a complete fabrication of untruths,' said Brad Pitt, who stars as the legendary outlaw in 'The Assassination of Jesse James by the Coward Robert Ford.'

"'There's just more of it today. There's more of it in quantity, but the execution's the same. In that day, when you only had a newspaper to get your information, that would have been the extent of it. But it doesn't seem to have changed at all,' Pitt told The Associated Press at the Toronto International Film Festival."
[From CNN]
True story Brad. Tabloid journalism definitely hasn't changed much at all. For our readers who may not know, back in the day of Jesse James, there was also a Brangelina and Bennifer-type obsession. President Ulysses S. Grant was famous for his untoward affair with Angelina Jolie, and after leaving his wife, the First Lady Julia Grant (I was really hoping her name would have been something more old fashioned and less sexy like Gertrude to make this funnier, so let's pretend she was named Gertrude Grant) Ulysses hooked up with Angelina. They then hopped around the globe adopting random children while flaunting their new-found love and happiness in the former First Lady's face. Gertrude, blind with rage, took up with various bloated movie stars and British models, none of whom would commit to her. Then President Grant tried to save New Orleans with modern architecture that no one wanted, and the pair eventually grabbed their covered wagon and rolled away. This was all covered by the National Enquirer, which had a hard time disseminating the information quickly, as it only had one dirty old printing press that was missing the "i." I'm sure things were just as tawdry and explicit back then as they are now. Though they probably didn't besmirch the reputations of beloved former presidents with blatant fabrications, but that's their own fault.
Picture note by Celebitchy: Brad Pitt is shown on set in NY City on the film Burn After Reading. His character is riding a bike that gets hit by a car. Thanks to Splash News.