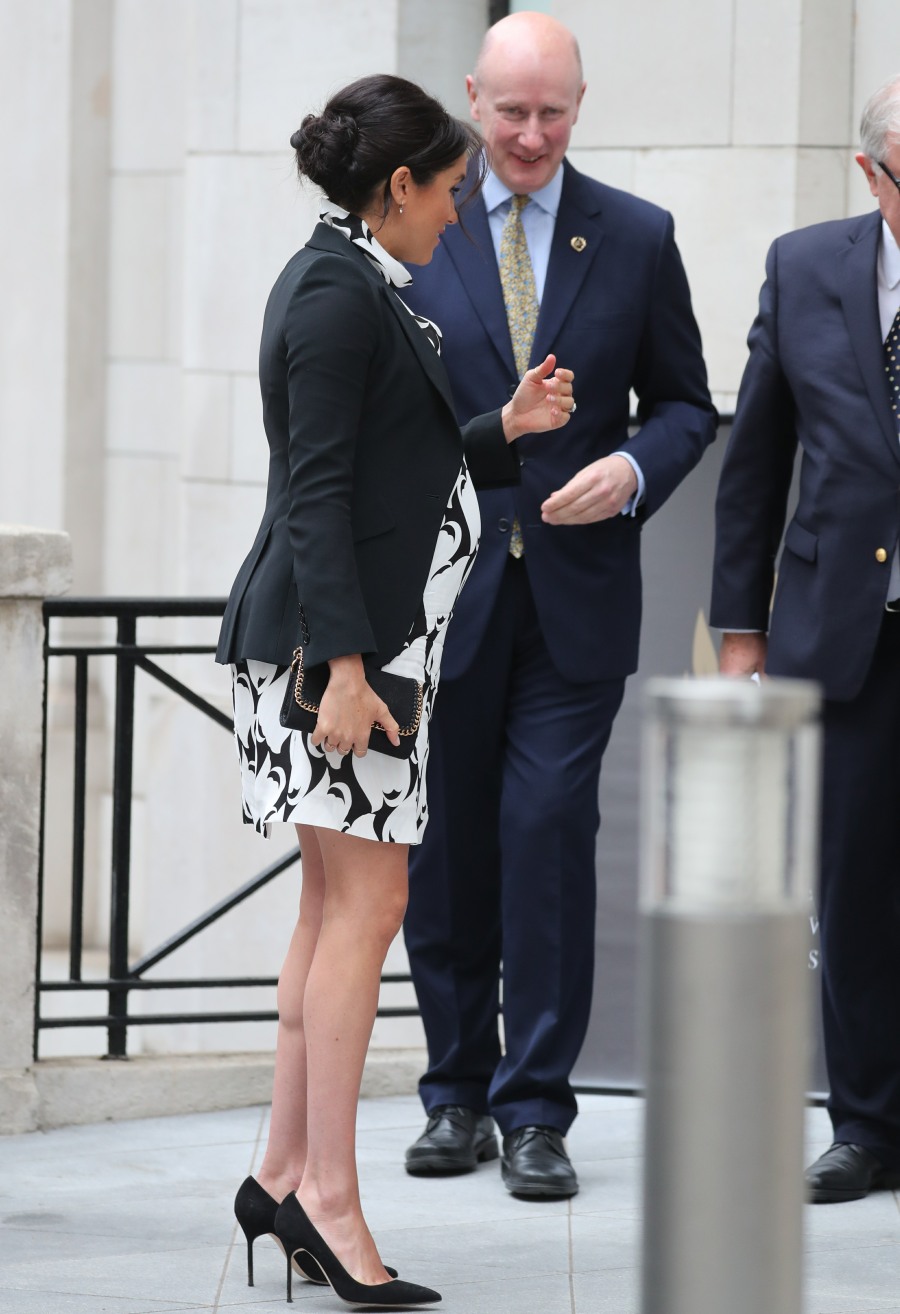 Today is International Women's Day. Doesn't it feel like this year's International Women's Day is a bigger deal than in years past? I feel like I've read about like 20 major events being held today to mark the occasion. It feels like a confluence of movements, awareness campaigns and issue-based non-profits are all using March 8, 2019 as a moment to come together and talk about the state of women and girls. The Duchess of Sussex is one of those women marking the day with a big activity: Meghan is taking part in a panel discussion at King's College to discuss the state of women today. The panel was convened by the Queen's Commonwealth Trust, of which Meghan is the newly appointed vice president (Harry is president).
I know it's strange to talk about fashion on International Women's Day when the conversation could be on solidarity, women's rights, economic rights, etc. But… fashion is important. It's a billion-dollar industry and Meghan is part of that. It appears that Meghan is wearing a dress from Reiss – a mass market British line popular with the Duchess of Cambridge – which retails for £185. Meghan hasn't worn a ton of mass-market British labels thus far, and I think this was largely a good choice. I wonder if she had it altered to accommodate her bump? I like that she's not afraid of bold patterns, and my one minor complaint is that like Kate before her, I think Meghan should aim for a knee-length hemline. I don't think Meghan had this Reiss dress altered to raise the hemline though (which Kate does all the time). Her blazer is £1,245 Alexander McQueen, and I'm pretty sure it's a repeat. Her heels – I can't believe she's still wearing such high heels – are Manolos.
The Duchess of Sussex joins today's unique #InternationalWomensDay panel, convened by @QueensComTrust, to discuss the obstacles that women face and the global opportunities that could be unlocked if girls and women are treated fairly and equally alongside men. #IWD2019 #IWDxQCT pic.twitter.com/qyWsUj3aSH

— Kensington Palace (@KensingtonRoyal) March 8, 2019
HRH The Duchess of Sussex has arrived at @KingsCollegeLon for #IWDxQCT.
As a firm supporter and advocate for women's rights, we're excited to hear our Vice-President's thoughts on the opportunities that exist to create a truly equal world for all.#BalanceForBetter #IWD2019 https://t.co/HfPrkA6Pts

— Queen's CW Trust (@queenscomtrust) March 8, 2019
Also: Baldy is really shooting his shot, right??
Photos courtesy of Getty, WENN.