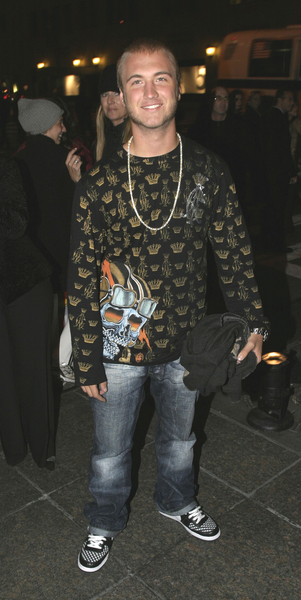 You know who I've decided I hate more than most people? Nick Hogan, Hulk Hogan's idiotic son. He's the one that thinks it's awesome to drive double and triple the speed limit, even when he gets pulled over three times in one night. He's also the one who was drag racing on a heavily used road and smashed his car, sending his passenger to the hospital and leaving him there, nearly a month later, still in critical condition. You are my Most Hated, Nick Hogan. I'm creating a special category just for you. I don't care that you're 17, there's some people that you can just tell were born with a sense of entitlement, and no one else's life will get in the way. Hogan plead guilty to a different traffic offense (he's gotten about six in the short time he's been driving).
"Hulk Hogan's son, Nick Bollea, has pleaded no contest to a charge of speeding in a construction zone. On Aug. 10, a Pinellas Park police officer spotted Bollea going almost double the speed limit. According to Ron Stuart, a spokesman for the Sixth Judicial Circuit in Clearwater, Judge William Overton adjudicated him guilty Monday morning and ordered a fine of $1,000, the maximum fine for the offense.

"The judge also ordered the 17-year old to complete a 12-hour driver improvement course within 90 days. Furthermore, the judge adjudicated Bollea guilty on a failure to wear a seatbelt charge and and fined him $73.50. The Pinellas Park traffic stop happened a few weeks before Bollea crashed a yellow Supra into a palm tree in Clearwater, injuring his passenger John Graziano, who remains in critical condition.

"Police say Bollea was speeding in that accident and are still investigating. No charges have been filed in that case."
[From Bay News 9]
Way to teach a douchebag a lesson. Not that I'm optimistic enough to think that much of anything would get through to this kid, unless something drastic actually happened to him, instead of everyone around him. So here's my solution: You. Me. Outside. You blindfolded, me with an awesome Revolutionary War musket that doesn't always do what it's told. At the end, if you keep your arms, you can keep your driver's license too.
Note by Jaybird: Here's Nick with an unnamed date at Aaron and Angel Carter's birthday party last year. Talk about being on the Q list. Header image at the launch for Tiffany's 2007 Blue Book Collection. Way to dress well for the occasion. Images thanks to PR Photos.