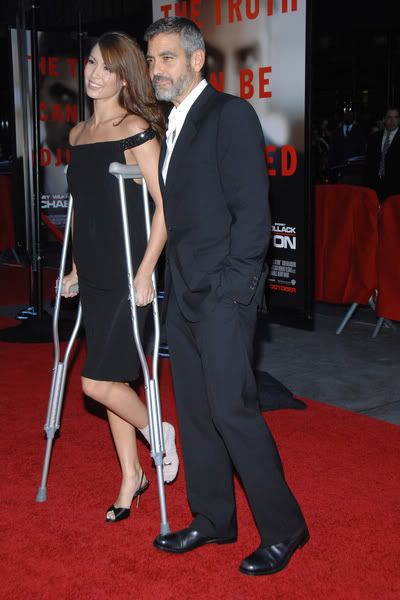 A slightly injured George Clooney vowed not to replace his dearly departed pet pig, saying he was irreplaceable and that he's too busy to care for an animal like that anyway:
He says, "You can't replace a good pig like that. I've been down to the Carolinas to shoot this movie and then cutting and writing so I haven't been home since January. And you can't get a new pet when you're on the road. Well you can – but people will talk."
[From Starpulse.com]
Meanwhile Clooney and his flavor of the month girlfriend, Vegas cocktail waitress and former Fear Factor winner Sarah Larson, 28, attended the premiere of his new film Michael Clayton last night in NY. Larson hobbled in on crutches with her foot bandaged. Contrary to earlier reports, she did not break her foot, just a toe.
Clooney make a thinly veiled reference to his now perhaps slightly constrained hot sex life with Larson after their motorcycle accident in Weehawken, NJ on Friday. People Magazine quotes him as saying they were "just resting" and that "You don't really want to rub or massage parts that are broken or anything." Maybe he's referring to the fact that he can't rub her feet now. I'm guessing that's part of Clooney's regular foreplay scenario and he's all too conscious of a deviation from the script.
Larson covered up a black eye with makeup at the premiere and despite her injuries it seems like this accident was a lucky break for her. She ate a scorpion on television for a measly $25k, surely she'll accept a broken toe and black eye to insure that she gets the maximum publicity out of her relationship with fickle Clooney. From the way Clooney is standing apart from her, I bet she wouldn't have scored a red carpet appearance with the lothario if it wasn't for their motorcycle crash. He can't replace his dear pig, his companion of 19 years, but women are a dime a dozen.
Clooney will not be charged or issued a ticket for his motorcycle accident. He was said to have told Larson "I love you" after they were hit. Maybe they'll last, but I doubt it.
Thanks to PRPhotos for these pictures.