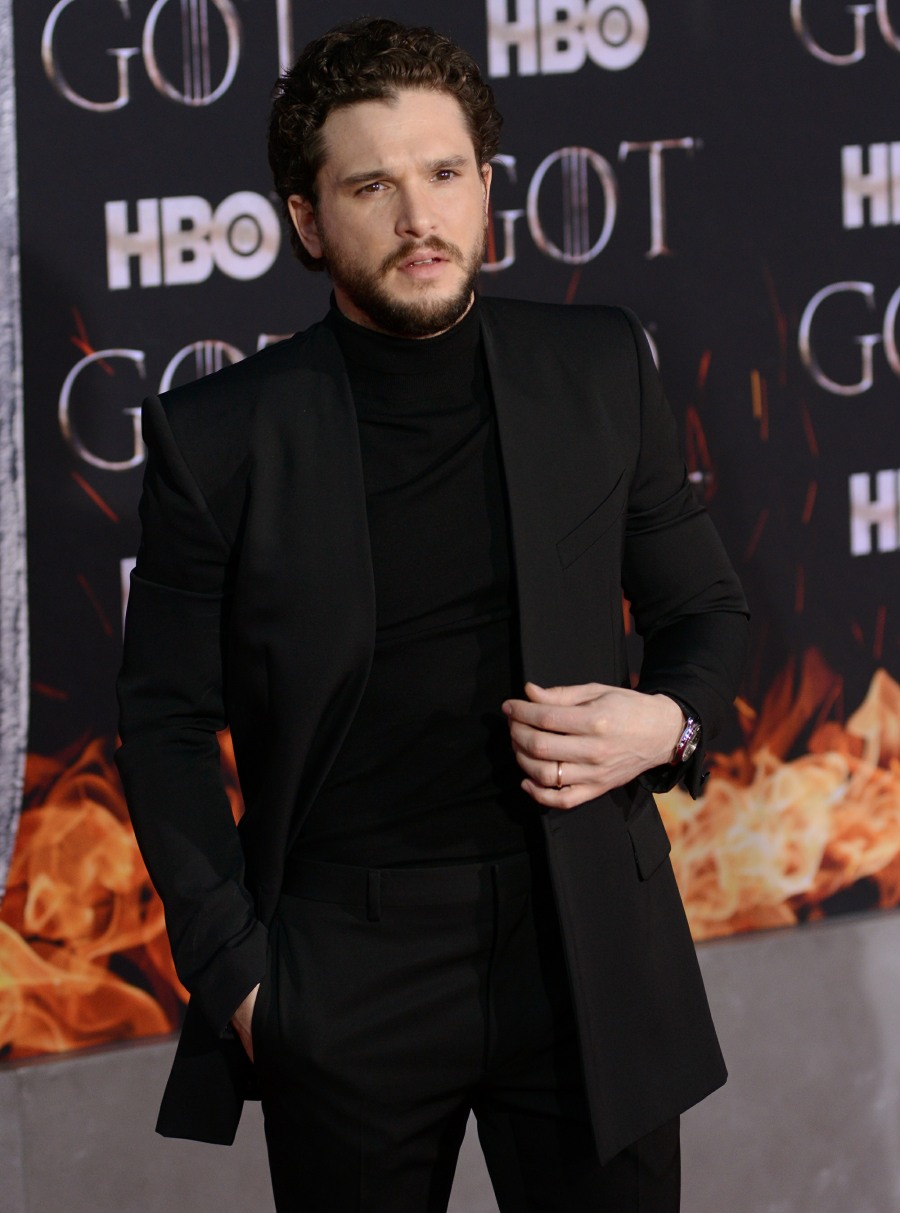 It's only a matter of hours now until the season premiere of Game of Thrones. It's been so long since we've had fresh Game of Thrones, I forgot what this feels like. Excitement tinged with dread, especially since we can feel that so many people are going to die in this final season. As I've watched HBO's GoT marathon this week, I realized several things about this series. One, Richard Madden was much more attractive than I gave him credit for in my first-watch of the show. Two, I appreciated Catelyn Stark so much more on the re-watch. Three, Brienne was ALWAYS awesome. Four, they did f–ked up things with Sansa's age and timeline. Five, Kit Harington was always a better actor than anyone gave him credit for. Really, go back and watch – I'm not saying he's the second coming of Daniel Day Lewis or anything, but Kit was absolutely one of the better actors on the show. And all of us had a front row seat to his maturation into manhood. He no longer whines about his hunkiness. He no longer talks endlessly about his hair. No, our Kit is all grown up. Kit chatted with InStyle about the end and all of that. Some highlights:
During the first season of GoT: "Those innocent times. Those times when I wanted to be recognized. I was completely naïve. I don't think I was prepared for anything like this. I didn't have a beard back then, and I've got a bit of a baby face underneath this scruff, so I think that helped. Then they went for a completely different take. 'Grow a beard. Look rougher. That's what we want.' I pushed out this scruffy thing that they had to draw on and fill in, but, weirdly, I remember it as a rite of passage. I'd never tried before, and I grew this thing, and it changed me. I felt like a man … a young man."

Whether he knew GoT would be a cultural phenomenon: "I honestly didn't think about that at all. Being in an HBO show was success enough for me. Until Season 5 or 6, literally that far in, I was thinking, 'Next season, am I gonna get paid?' That's how I treated it. When we first got nominated for an Emmy, I didn't know what that was. It was when I went to Comic-Con that I realized there was a cult following springing up. And soon it was more than a cult following. It's become a bigger thing on television … Yeah, I guess I have to slightly admit that now — it is kind of one of the biggest shows ever."

How he feels now that he's wrapped: "You don't feel one thing; you feel a hundred. Sadness. Elation. Excitement. Dread, definitely. But more than anything there's just this flickering light at the end of the tunnel. Once it's aired and done, I think I'll just have this great sense that something's been lifted off my shoulders. I've underestimated how much pressure has gone with the show for 10 years."

His final day on set: "I think I got my final day changed about 18 times, to the point where I didn't know when it was. I was like, 'Just don't tell me.' Then it came, and I had that final scene, which was very average. I was just walking somewhere with Liam [Cunningham, who plays Davos Seaworth] and Jacob [Anderson, who plays Grey Worm]. It couldn't have been more of a wet fart of a scene. But I completely broke down after it. I'd seen Peter Dinklage do his last scene earlier in the day, and he broke down. I'd been at other people's wraps, like Sophie Turner's. You just saw them collapse. And it happened to me. It was a beautifully weighted ending. Then it was like, 'OK, I'm actually done with this show. I love it. It's my pride and joy, and it's been a pleasure to be a part of it, but I'm done.' "

It was his last day filming, not his last scene within the show: "I still don't trust that the ending that was written down is the actual ending. I think they kept it from all of us. The secrecy this year was just huge. No one I've spoken to has guessed the actual ending. No one has got it right yet."

Falling for Rose Leslie: "I think almost the worst thing about falling in love with Rose and marrying her is that it's going to be very hard to work with her again. Working opposite her was one of the highlights of my life and career. I don't know when, if ever, I'm going to get to do that again, because we're married now, and it's hard to work opposite your wife."
Honestly, I sat here and literally GASPED when he said the final scene he shot on set was with Grey Worm and Davos. Granted, they film episodes out of order sometimes and I'm sure they filmed all six final episodes all together to save time and money. So the scene with Davos and Grey Worm might be in the first episode of the season. But… I doubt it. I think Jon gave us a little spoiler. And why would Jon Snow be dealing with Grey Worm at all unless Dany isn't there… OH MY GOD. OH MY GOD. Does Jon survive and he takes over Dany's army of Unsullied? "No one I've spoken to has guessed the actual ending." WTF Cersei totally is going to bang the Night King, isn't she? Even the Night King will be like "damn, you are one icy bitch." Alternate theory: Lady Stoneheart on the Iron Throne. And does Tyrion make it to the end? THE NIGHT IS DARK AND FULL OF TERRORS.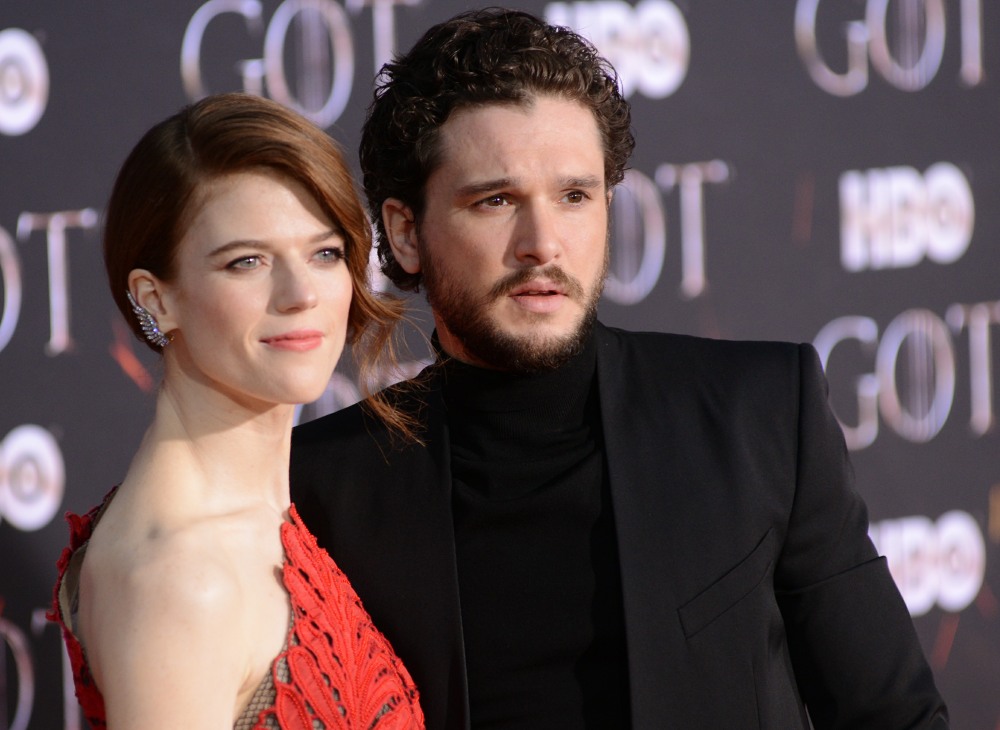 Photos courtesy of WENN.