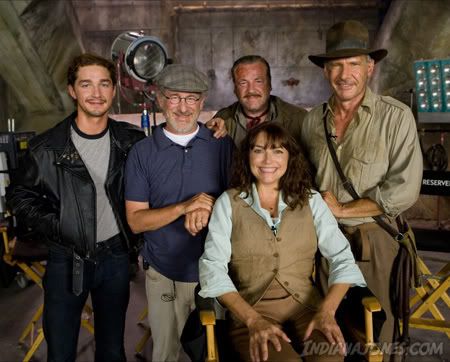 As a child of the 1980's I can't wait for the new Indiana Jones movies – Remember when Steven Spielberg was the greatest movie director ever? E.T., Jurassic Park, Close Encounters of The Third Kind, The Colour Purple…That's how you get your name above the title people!
He's back, and directing a forth Indiana Jones film. Harrison Ford is still going to be playing Indiana again, and everyone on the set has had to sign a confidentiality agreement – but some people just don't know when to keep their mouth shut.
But Tyler Nelson – cast as a "dancing Russian soldier" – gave an interview to his hometown newspaper, the Edmond Sun in Oklahoma, in which he revealed that:

* Indy, played once again by Harrison Ford, and the Soviet army are both searching for a priceless skull made of crystal in the jungles of South America.

* The Russians take Indy hostage and then blackmail him by threatening to kill his ex-girlfriend and mother of his son, Marion Ravenwood, portrayed by Karen Allen. Cast as the son is Shia LaBeouf.

* Cate Blanchett plays an evil Russian who grills Indy. "I saw Harrison Ford strapped to a chair and being interrogated," Nelson told the paper.
The title of Indiana Jones and the Crystal Skull is as yet unconfirmed. It has mostly been referred to as Indiana Jones 4.
Oh, and what happens to you when you void your confidentiality agreement and get on the bad side of Spielberg? First, he cuts your scene from the movie. The big scene in question for Nelson is when he dances to balalaika folk music when Indy is captured.
In the words of Spielberg's rep, Martin Levy, "Who knows whether that particular person will ever work in this town again?"
The forth Indiana Jones movie hits cinemas in May.
Picture note by Celebitchy: Pictures and wallpaper from the upcoming Indiana Jones film thanks to AllMoviePhoto.com. Pictured are Shia LaBeouf, Steven Spielberg, Ray Winstone, Karen Allen and Harrison Ford on set. Shia needs to get rid of that facial hair because it detracts from his cute look.