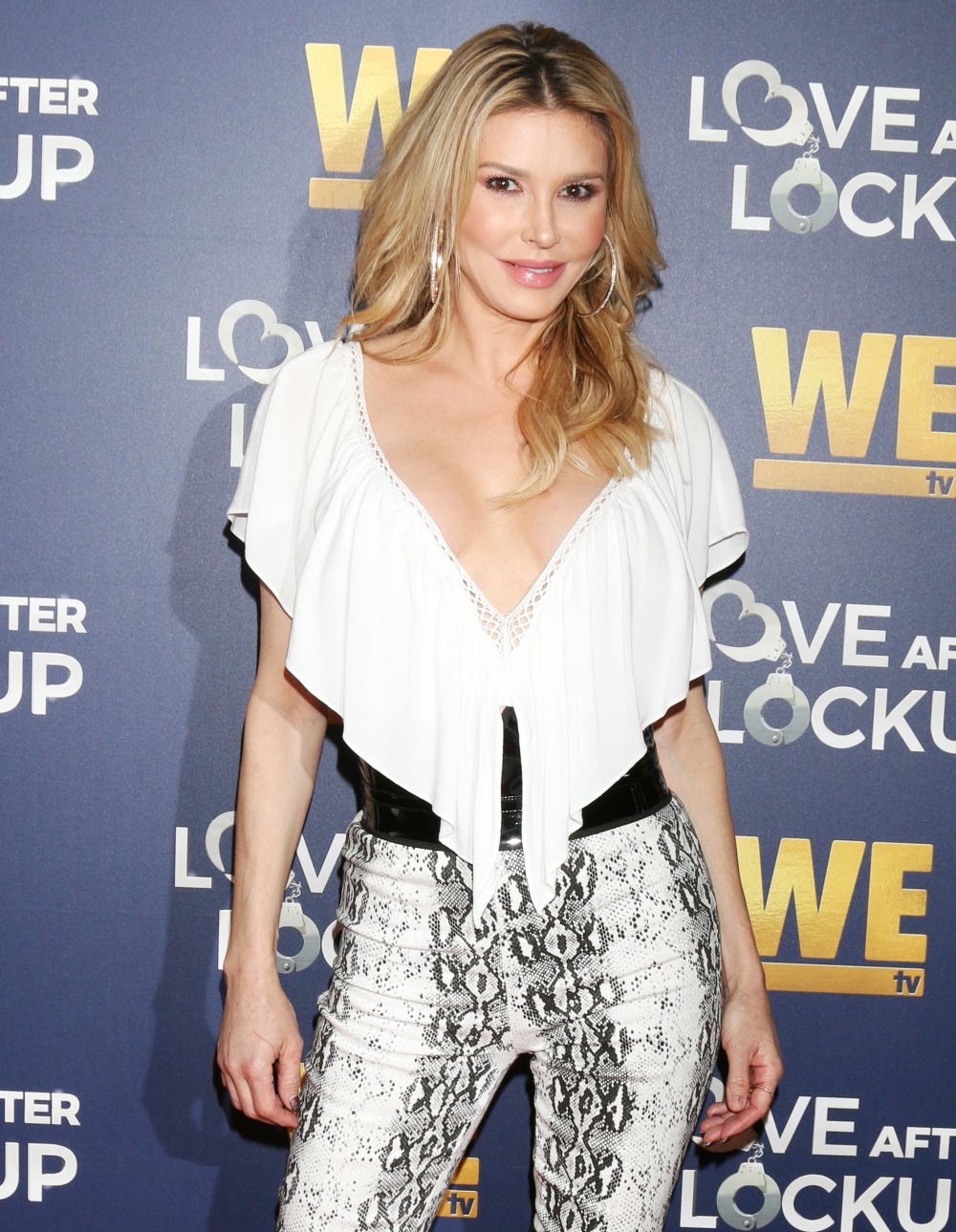 Brandi Glanville is a somewhat tragic figure. I tend to believe that much of Brandi's life in the past decade has been trying to make lemonade out of the basket of lemons she was handed. She was a model who landed a D-list actor and they lived a comfortable life with two young children. Then her husband cheated on her with LeAnn Rimes and everything fell apart. Brandi learned that Eddie had been cheating on her with other women too, but LeAnn was the one who stuck (mostly because LeAnn stalked him for months). Eventually, Brandi and Eddie's marriage fell apart, and LeAnn continued to stalk, this time she was stalking Brandi. For years, this bullsh-t was happening. In that time, Brandi became her own little C-list celebrity brand, parlaying the wronged woman thing for a book/memoir and a supporting role on Real Housewives of Beverly Hills and more. Brandi hustled and had some success here and there. But all of the bad stuff still gets to her.
A few days ago, Brandi was photographed looking drunk as hell – you can see the photos here. Brandi's overdone the Botox and fillers for years, and she can barely move her face or her mouth at this point, which adds to the whole "what's happening here?" vibe. Once those photos came online, Brandi got sad and upset. She clapped back at some people on Twitter and tweeted this:
I've been VERY open about Suffering from depression and having recently switched antidepressants So please please stop these negative comments unless you really just want to send me over the f–king edge. I'm sad and ashamed isn't that enough?

Sorry for my tweet I just realized the only people I owe explanations to are my family. I'm not 25 my body isn't perfect and I got wasted i'm sure it's happened to plenty of you however you don't have people taking your picture and putting on the internet
She switched antidepressants and she's still drinking heavily while on a new MAOI inhibitor? That's super-dangerous – depending on the antidepressant, one or two drinks can make someone feel incredibly loopy. After people were still making fun of her – please stop doing that – Brandi posted this video (below) where she's crying into the camera. She admits: "I'm telling you I'm embarrassed," and saying how difficult it is to be around women with "perfect husbands," women who get to see their kids 100% of the time. She seems really devastated and sad. Poor Brandi.
Photos courtesy of WENN, Instagram.