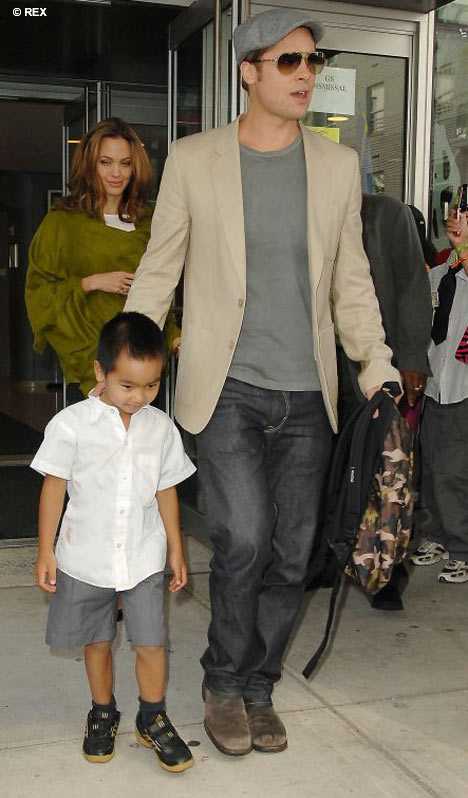 Poor Angelina Jolie and Brad Pitt. They've been seriously inconvenienced lately when dropping off their oldest son Maddox at Manhattan's ultra-posh Lycee Francais school. People are asking them for pictures, autographs, or just having the general nerve to say their names. But if nothing else, these are random street hooligans, right? Well, no. They're other Lycee Francais parents. A little embarrassing. Considering how fancy the school is, you'd think the parents would be a little more annoyed by the Brangelina hubbub than the other way around, but sadly that's not the case.
"The New York Observer reports that the Lycee's director of operations, Dan Cooke, had to ask parents to leave Brad Pitt and Angelina Jolie alone. He wrote in a letter, 'Regretfully, I have seen some parents taking pictures, asking for autographs, talking to the media and even shouting at Ms. Jolie and Mr. Pitt for recognition. Therefore, in the best interests of the school and safety of your child(ren) I must ask for everyone to please respect the family's privacy and discontinue these practices.'

"Meanwhile, Angelina Jolie and Brad Pitt have made concerted efforts to ensure that the chaos [sic] that surrounds them is kept to a minimum when dropping son Maddox, 5, off for classes. Cooke explains in his letter:

"'I'm sure you are aware the school has received much media attention recently during the arrival and dismissal times because of the presence of celebrities Ms. Angelina Jolie and/or Mr. Brad Pitt. I want to make you aware that before the first day of school I met with their security team to discuss the best manner in which for them to drop off and pick up their son. Our foremost goal was to cause the least amount of disruption to the school and to ensure the security of all of our students and families.'"
[From US Weekly]
I expected Upper East Side parents to have a bit more decorum about them, just not give a damn, or if nothing else be righteously annoyed by the Brangelina spectacle. Turns out they're just a bunch of screaming girls at a Beatles concert like the rest of us. Too old a reference? Okay, turns out they're just a bunch of screaming girls at a Justin Timberlake concert. That could really make those parent open houses awkward. Someone says hello to Brad Pitt, Brad's security team knocks the parent over and confiscates their cell phone… and their camera… and their binoculars… okay I guess these people really are freaks.
It actually is enough of a problem that Maddox has become afraid of the paparazzi and all the screaming at school lately.
"A source tells the Observer that the constant attention of the paparazzi (and eager parents) has already had an effect on adopted son Maddox. The normally happy Mad got scared and started to cry when his kindergarten class was asked to bring in a picture of themselves."
[From US Weekly]
Maybe he's just crying because he's got that silly Mohawk in all those pictures and he's too embarrassed to bring one in? I'm kidding, the Mohawk is adorable. He's probably actually crying because all of the family photos are in Us Weekly.
Picture note by JayBird: Here's Angelina and Brad picking Maddox up from Lycee Francais. You can see that it looks like there's a lot of students lined up to look at them, though no visible parents. Images thanks to the Daily Mail.