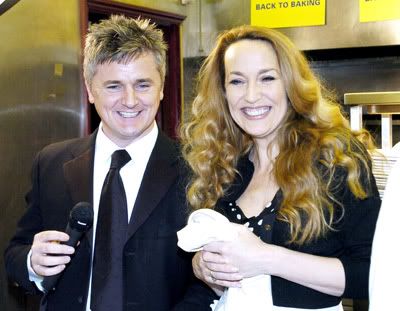 P. Diddy is producing a reality show called "Celebrity Cooking Showdown." The show will premiere on April 17th, and the premise is familiar from "Dancing" and "Skating" with celebrities:
The show – which will debut on April 17th – will pair superstar chefs with celebrities in a week-long cooking competition.
'Celebrity Cooking Showdown' will appear on US network NBC and air five nights a week. One celebrity winner will be chosen each night, and the final winner will be named by a combination of judges and viewer votes. It is said that several celebrities will reportedly sing for Diddy's reality show.
Wow, celebrities are going to sing on the show while they cook. Guess we can't look forward to a "Singing with Celebrities" spin-off, since Diddy is trying to scoop up that idea too.
Here are pictures from a 3/15 photocall promotion featuring date a milf reality show star, Jerry Hall, and British TV chef Anthony Worrall Thompson.