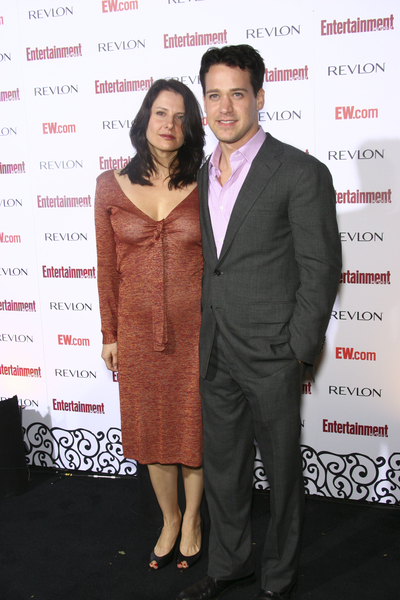 "Grey's Anatomy" star T.R. Knight was on "Ellen" the other day, and told a very cute story about getting a puppy from Katherine Heigl. You don't often hear about celebrity friendships – it seems like once every couple of years "People" will do a story on celebrity best friends, and it'll surprise everyone because no one had any idea those two actors even knew each other. Katherine Heigl was a very vocal supporter of T.R. Knight during the whole Isaiah Washington "fag" incident – though I'm not sure if the two became best friends as a result, or if they were close from the beginning. Either way, they're close enough that Heigl surprised Knight at his house with a puppy for his birthday, which he named Arrow. That's pretty much the cutest thing ever.
"'I had been talking about [getting a dog] for a while. I guess there's a point – too much talk and not enough action," Knight said. "So she made the decision. It was great, yeah, she showed up at my house with it.'"
[From People]
Knight does tell a story that kind of explains some of the things that are wrong with the press… but does so in a way that doesn't make me want to kick him. It's actually pretty funny… though quite the insult to Katherine Heigl's mom, which I don't think he realized.
"Although he may be happier, Knight insists that coming out hasn't much affected his love life.

"'Recently Kate [Heigl] and her fiancé Josh Kelley and me and her mom went out to dinner, and it was reported that it was with me and my new boyfriend. But that was her mom,' he told DeGeneres.

"'So I guess I'm dating Katherine's mom right now,' he joked.
[From People]
Um, burn? Ouch! Katherine Heigl is beautiful, what must her mother look like to confuse the press into thinking she's a gay man? I'm going to do my best to dig up some pictures of said mannish-looking mother. Knight also talked about the process of coming out under fire last year.
"'I feel I've learned so much this past year, so, I'm grateful for that, so yeah, that changes you,' he said on The Ellen DeGeneres Show Thursday. Knight, 34, previously told DeGeneres that hearing his Grey's Anatomy costar Isaiah Washington refer to him with a homophobic slur gave him the courage tell the world.

"Asked what he thinks about actors who do not come out of the closet, Knight said, 'Everyone has their own path. You just have to respect that… It don't think it's right to force that. It's impossible to know. There's a lot of soul searching you have to do.'"
[From People]
What he says makes a lot of sense. We all have a lot of soul searching to do in our lives, and I imagine that it's hard to guess what it's like to be a gay person that's trying to figure out what type of life, and how public a life, they want to live. I think it's really good that Knight did ultimately come out, but it would have been nice if he did it in his own time and his own way.
Picture Note by Jaybird: Here's T.R. with Kate Walsh at the Music and Lyrics premiere in February. Header image at Entertainment Weekly's Pre-Emmy part on September 15th. Images thanks to PR Photos.