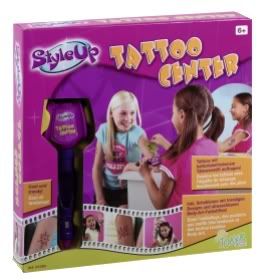 I was watching German kids' TV when an ad came on for a toy aimed at the under-served 'tween girls' temporary tattoo market. It's a DIY home tattoo studio called "Style Up." It features 9 stencils in tattoo-like patterns and even has a pretend tattoo gun that can be loaded with one of three different colored markers.
The ad says in German that you can apply the temporary tattoos on an arm, stomach or wherever you wish. They're also guaranteed washable.
This reminds me of the now-defunct "Baby Ink" hoax site that featured pictures of children getting tattoos.
This is a real toy, though, that will help train a new generation of German tattoo artists.