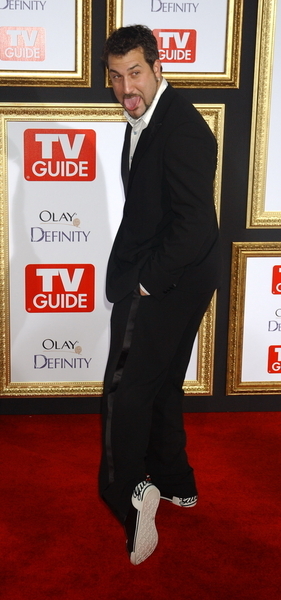 Thank God there are super random washed-up pop stars here to save slightly less random washed-up pop stars. The pop star community really is a lot more supportive than I'd realized. Joey Fatone, of Nsync, "Dancing with the Stars" and the "Singing Bee" fame (and I use fame in the loosest sense possible) wants to let Britney Spears know he's there for her, and she can come and kick it with him in Orlando anytime she'd like. Spears used to tour with Nsync, and dated Justin Timberlake, back when he had the super-curly super bleached blond hair. So Joey's reaching out isn't totally random, but it's not exactly personal. How do you or I reach out to an old friend in trouble? A phone call, a letter, maybe an email if we're lazy and don't really want to be too inconvenienced by the reaching out. How does Joey Fatone do it? Through "Extra." Ahh, right to the heart of the matter.
"Joey Fatone is offering Britney Spears a getaway from her life in the spotlight.

"'Britney, call me, come over to my house, come to Orlando, get away from it all,' Fatone, tells Extra. 'It's a good thing to get out of L.A.'

"Last weekend, the embattled pop star spent time in Atlanta after being charged with hit-and-run in Los Angeles.

"Spears is working on a career comeback with a new album due out in November. But she's suffered a series of setbacks, including scathing reviews of her performance at the Video Music Awards and a very public battle with her ex-husband Kevin Federline over custody of their two sons.

"'I think she just needs some time, some time to really heal,' says Fatone, who has known Spears for many years. The current Singing Bee host was also a member of N' Sync with Spears's former flame, Justin Timberlake.

"Fatone tells Extra that he hasn't seen Spears in some time, but has a message for his old friend: 'If you're there, let me know. I'm here for you, sweetheart.'"
[From People]
Well why not put your faith in a guy who reaches out in such a personal manner? And really, who better to chill with than the guy who always beat up his sister in "My Big Fat Greek Wedding?" There are some people that just give you the vibe that they're bad news or using other people, but Fatone seems pretty nice and normal. So despite my mockery, he probably has the best intentions. I just think his route is a little… self-serving. Frankly I'm amazed that Britney has received so much public support from celebrities – you'd think that, given her child-ignoring, drug-abusing ways, a lot of people would want to stay away from that train wreck. I say take a few people up on their offers and make yourself invisible for a while. Or else I'm going to keep writing about you Britney. And it's just going to get bitchier.
Picture Note by Jaybird: Here's Joey Fatone at the Emmys on September 16th. Images thanks to PR Photos.