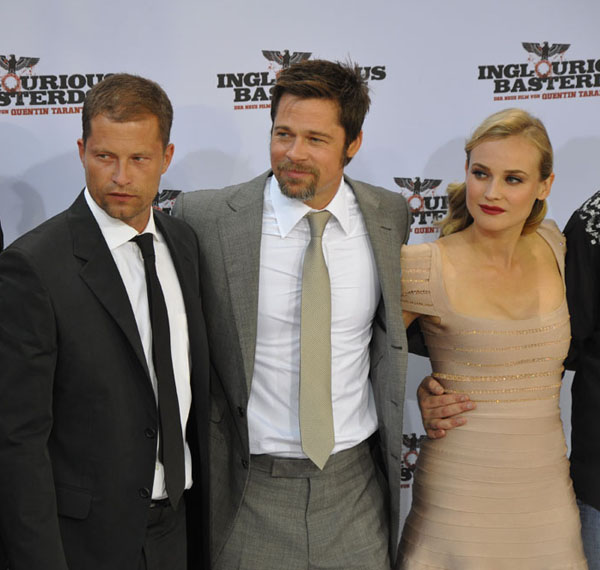 Forgive the huge amount of photographs, but I took these pictures! I had the thrill of photographing the red carpet at the Inglourious Basterds premiere tonight in Berlin. Thanks to the people who didn't give me a hard time about getting a press pass, and a ladder that was there, I was able to get these photos. This was such a thrill for me after missing Pitt's last premiere in Berlin in January while I was on vacation in Florida. Brad took time to sign autographs and chat with elated fans tonight. He told Pro Sieben that he was happy to be in Berlin in the summer for once and that he has many friends here. He also let it drop that he'd "already hit the bars." (Or "bar," I should have videotaped it as I don't remember what he said exactly, but that's pretty close.) He didn't seem inebriated at all and came across as perfectly sober while making the rest of us, or at least me, a little giddy in his presence. (I was probably the only photographer screaming with the fans in delight, and while I tried to keep it down I just couldn't contain myself.)
Also shown at the premiere are boxing great Wladimir Klitschko, director Quentin Tarantino, and Brad's co-stars Diane Kruger and Til Schweiger. Diane looked lovely in a little neutral-colored dress. It was Brad who stole the show, though, just by showing up.
Update: The video from Pro Seiben is not yet on their website, but reader Kay e-mailed me to say that Brad might have just been using the expression "I've already hit the bar" to say that he was tired. It was loud and I couldn't hear the question, so she's probably right.
Here are links to German-language video reports on the premiere.
ZDF's coverage: (Brad appears around 2:20 into the video. He says he has good friends here and that Berlin has great architecture and he feels comfortable here. He also says he had a lot of fun filming with Tarantino.)
Bild.de's video of Brad at the premiere. (Brad comes in around 1:10 in and compliments Tarantino and says he enjoyed working with him.)
Raw video of Brad signing autographs, thanks to the Berliner Morgenpost.
RTL's report. When asked why he's the top celebrity in the world, Brad replies "I have been working at it for about 20 years." He also tells the interviewer that "there's always hope" to make it big. A drunk Til Schweiger makes a joke at the after party that he's going to have sex with Brad later. That guy is really growing on me. Till says (roughly translated) "We will probably make love and try some new things." In German, "Wir werden uns wahrscheinlich so ein bisschen lieb haben und irgendwelche neue Praktiken ausprobieren."
DSDS Videos: alle Castings, Recalls und Mottoshows bei Clipfish.de
[love to my husband for finding these videos and helping translate]