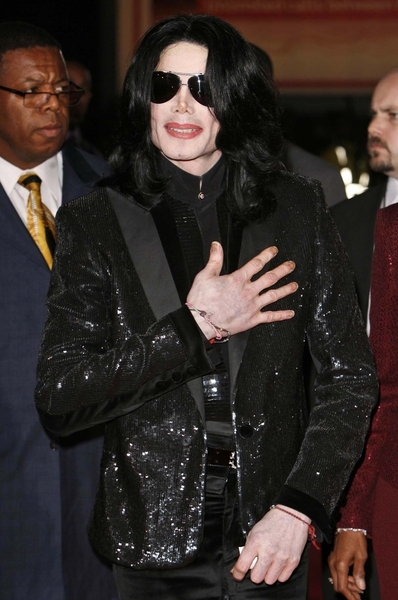 Apparently people were all up in a tizzy saying Michael Jackson was getting married. To a woman. A genetically original woman. I didn't hear anything about said tizzy, but it was big enough to require Jacko's people to release an official statement. Apparently it's not true. Though he's such a weird guy and there's so much mystery surrounding him that I wouldn't rule anything out. He probably did get married, it was just to a coffee maker or other random household appliance instead of a woman.
"Michael Jackson and his kids remain the only ones donning the veils in the family. The singer's rep issued a firm denial Thursday in response to a sudden flurry of reports stating that the self-proclaimed King of Pop had swapped vows with his children's nanny, Grace Rwaramba, a frequent fixture in the courtroom during his trial on child-molestation charges in 2005.

"'Wide spreading reports regarding Michael Jackson being married are not true,' publicist and resident rumor-buster Raymone Bain said in a statement to E! News. 'Documents stating otherwise are a hoax.'

"Earlier Thursday, the National Enquirer's Website quoted a source supposedly close to the pair who said, 'Grace was happy to go along with it. She's always been devoted to Michael and has raised the kids since the day they were born. Michael knew she'd make a perfect stepmother.'
"The tabloid also said that it had obtained a real estate document on which Jackson referred to himself as a 'married man.'"
[From E! News]
How does Michael Jackson keep getting so many ladies? He looks like a lady! Michael's got some serious financial worries. He's being sued by just about every business in America, and a least three quarters of the American public. I'm guessing that – if he did marry the kids' nanny – he just did it to save money since he wouldn't have to pay her a salary anymore. But let's be honest, being the King of Pop's wife has its advantages. You always have access to blankets when you're cold – just reach over and pull one off a random kid. You have unlimited Jesus Juice. All the monkeys you can handle. And the guy will never bother you for sex at three in the morning. In fact you probably won't even have to share a bed with him. Sounds like an ideal marriage to me. Especially the monkeys.
Picture Note by Jaybird: Images thanks to PR Photos.