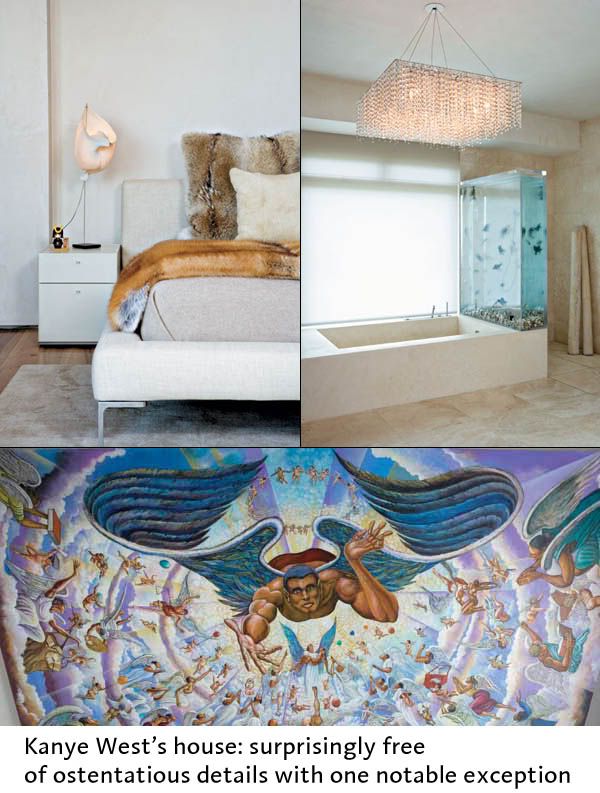 I was going to focus this article on the ridiculous mural Kanye West has to himself over his dining room table. It features Kanye as a huge God figure surrounded by swirling clouds full of worshiping angels pointing in his direction and reaching out for him, looking like they're sucked into his orbit and grateful for his divine guidance. (Update: That's not supposed to be Kanye, see below.)
Then I saw the inside of his house and I just can't fault the guy. For someone who talks smack constantly about how superior he is you would expect his house to reflect his extreme wealth, but it doesn't, it's a showpiece of minimalist modern furniture accented by pop art originals. Kanye West has, dare I say it, excellent taste. The mural of the Kanye God is the only thing that reveals his enormous ego, and it was the first piece of art he commissioned back in 2004.
His house is a 4,200-square-foot three level. It was full of details found in high end homes like a big black granite fireplace and granite throughout. Kanye had all that gutted and redone and had walls blown out to achieve a big serene space without unnecessary details.
Given his celeb stature, West's home is surprisingly restrained—the furthest thing imaginable from MTV Cribs. Built on spec, the 4,200-square-foot, three-level house started out as a beige stucco monolith. Inside were blond maple floors, an immense black granite fireplace taking up a wall in the living room, more granite in the kitchen, and random soffits all over. "Kanye loved the newness and the city views," Stewart recalls.

When West purchased the property, he was initially looking only for furnishings. That phase was short-lived. "Kanye started to realize how into design he is," Stewart continues. "Staying at the Bulgari in Milan and the Grand Hyatt in Tokyo on tour, he'd come back full of ideas, in touch with his inner minimalist." What West envisioned was a cross between a museum and a Louis Vuitton boutique. The project eventually morphed into a full-fledged renovation, lasting almost three years.

Out went every vestige of spec. In came enrichment and consistency. Stewart got rid of all those soffits, raised ceilings, finished walls with raw plaster, and swapped out insignificant windows for frameless glass. He gave the top-floor public spaces a loftlike feel, opening up passages between living room, dining room, and kitchen. Designer and client hit upon French walnut for flooring, Stewart says, after "looking at almost every sample in town."
[From InteriorDesign.net via Kanye West's blog]
Of course Kanye hired an interior designer, but he picked someone who would execute his vision, and the results are incredible. It turns out he studied fine art in his hometown of Chicago at the American Academy of Art. I hope this doesn't mean I have to like the guy, but his house is impressive.
West has art by Andy Warhol, Burton Morris, and Takishi Murakami, who has collaborated with West on his videos and designed some of his cover art. The chair that looks like a bunch of stuffed animals is by Fernando and Humberto Campana, and I've seen their furniture in a few modern art galleries.
Yes I'm fawning over his house a little, I'm a modern art lover and wish I could afford furniture from Design Within Reach, not to mention original art and custom pieces.
Here is a drunk Kanye saying he's the number one human and number one artist in the world, just so I don't forget who this house belongs to:

And here are pictures of the interior of the house found at InteriorDesign.net, the website of Interior Design Magazine, where the home is featured in the September, 2007 issue. Thanks to TMZ for the heads up about his blog.
Update: Thanks to Commentors Cass and Kolby for pointing out that the article, which I didn't read carefully enough, says that the mural shows Kanye being saved by an angel after he nearly died in an accident. The big figure in the middle looks an awful lot like Kanye to me, but the article says he's the one kneeling underneath, not the giant angel in the middle "Barnes's resulting celebration, A Life Restored, is replete with a kneeling West and an angel swooping down." That's a lot less egotistical than I assumed. Why can't Kanye West have a house I don't love? I just wanted him to have something in his house that shows what an ass he is, but now even the mural is ruined for me.