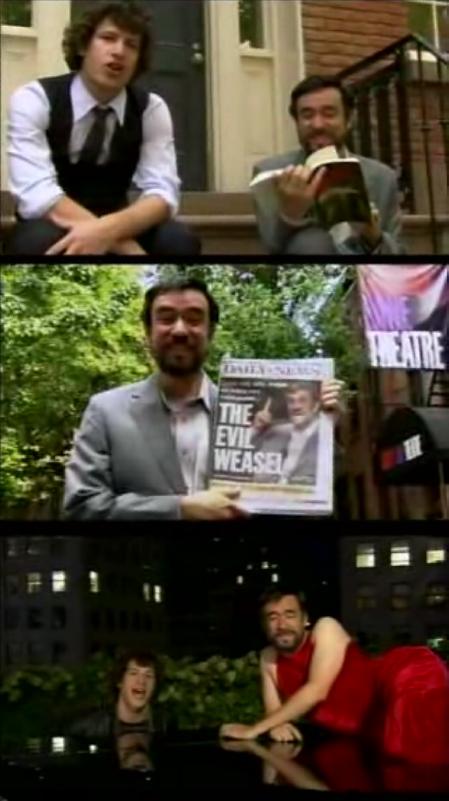 Not to get too political on here (some of you like the variety, but a bunch of you yell at me too…) but Iran's super-controversial president Mahmoud Ahmadinejad spoke at Columbia University in New York City last Wednesday. The event was incredibly controversial – Ahmadinejad has been a longtime denier of the Holocaust. A lot of people thought he shouldn't be allowed to speak by Columbia, while just as many people made the argument that in America, people generally have the right to say whatever they want, even if others don't agree, and that's a good value to show the rest of the world. Both of the arguments make sense to me in their way. During his speech, Ahmadinejad was heckled and several other speakers were really harsh to him – which was totally fair, because he got to speak his nutball views, and people got to respond. That's the flip side of the whole freedom of speech thing – it applies to pretty much everyone. Ahmadinejad didn't like that, and reminded the audience that that type of behavior wasn't allowed in Iran. Ummm… well dude, you're not in Iran. We let you come here and say things we consider stupid, so the way it works is that we then get to say things you consider stupid. See how we all win? Ahmadinejad claimed in his speech that there aren't gay people in Iran, noting: "In Iran, we don't have homosexuals like in your country. We don't have that in our country. In Iran, we do not have this phenomenon. I do not know who has told you that we have it." Um, right. Well just because they don't over-pluck their eyebrows and wear a lot of pink doesn't mean you don't have a couple of gays chilling in your hood, dude.
This past Saturday, comedic genius, "Saturday Night Live" cast member, and my future husband Andy Samberg responded to Ahmadinejad's claims with one of his most inspired songs to date. Samberg is the lyrical mastermind behind SNL's Emmy Award winning "Dick in a Box" and "Lazy Sunday."
"Andy Samberg, Adam Levine and Jake Gyllenhaal lampooned Holocaust-denying, homosexual-decrying Iran president Mahmoud Ahmadinejad on 'Saturday Night Live' this week.

"Samberg performed a hilarious R&B love song titled 'I Ran' in homage to the Iranian president (played by Fred Armisen), featuring lyrics like, 'You ain't wrong to me, so strong to me. You belong to me, like a very hairy Jake Gyllenhaal to me.'

"Meanwhile, Maroon 5 frontman Adam Levine gamely lent an overemotive chorus to the video, crooning, 'And I raaaaan, I ran so far away. Because you're home, in my heart you'll stay…'

"The 29-year-old SNL funnyman took a shot at the statement in his serenade, singing, 'I know you say that there are no gays in Iran, but you're in New York now, baby!'

"Also up for ridicule was the president's assertion that the Holocaust is "a myth." Samberg tones, 'You can deny the Holocaust all you want, but you can't deny that there's something between us.'

"At the end of the video, the real Gyllenhaal pops up for a cameo, fluffing his beard and flashing the double peace sign as the crowd bursts into laughter."
[From Us Weekly]
Watch the video for comedic gold.