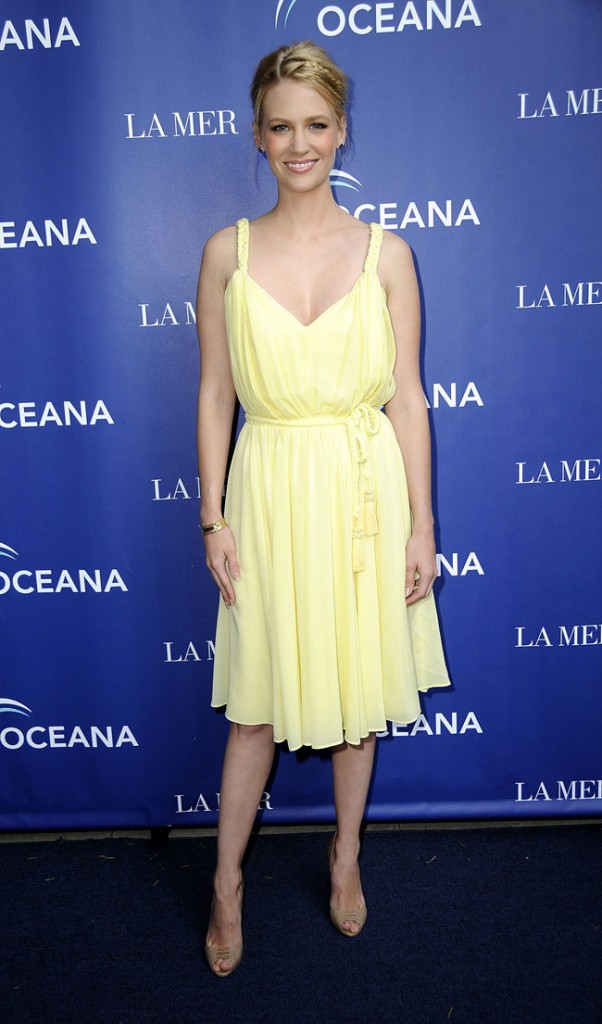 Tuesday night, the cast of Mad Men played host to a special screening of the first episode of Season 3 in Hollywood. All of us peasants have to wait until is August 16, 10 p.m. EST for the AMC premiere. So close and yet so far! Anyway, initiate your countdown. It's coming! As some know, I'm obsessed with this show. I love, love, love it. Every episode kills me, and I've been waiting all summer for the show to return. Meanwhile, I've been enjoying the official Mad Men website.
Many journalists and television critics showed up for the screening, so there are lots of little pieces of Mad Men-related news out there. Unfortunately for everybody, Mad Men's star John Hamm didn't show up. Where was the Hamm-ster, perchance? On vacation… and we know this because Best Week Ever got exclusive pictures of John smoking and drinking and playing with a cute dog on his vacation. Best Week Ever calls him a "GQ Motherf-cker" and he really is. These vacation pictures look like a photo shoot with a young George Clooney.
OK! got interviews with two of Mad Men's coolest ladies, January Jones (Betty Draper) and Christina Hendricks (Joan Holloway). Christina is actually a little boring, she didn't talk at all about the show, she only talked about her upcoming wedding. She's going to wear Carolina Herrera. Good choice. January admitted that Mad Men producers told her she was too thin for her role, and that she's have to gain some weight to play a natural, curvy 1960s housewife:
Mad Men star January Jones admits she's been having trouble filling out the girdle of the curvy late '60s character she portrays on the critically acclaimed AMC show — and it's gotten her in hot water with producers.

"I got told a couple of days ago that I look too skinny, and I was in trouble," January sheepishly told reporters at the July 28 party for the AMC network. "I'm naturally pretty thin, so I'm trying," the beautiful blonde actress said, showing reporters she was drinking an Amstel Light beer at the party.

Also, January says, "I eat whatever is at craft services. I'm a big eater. I'm from South Dakota, so meat, potatoes, carbs."

The star notes that to maintain Mad Men's early '60s look, in which women definitely had more meat on their bones, she and the other actresses are "encouraged NOT to work out. We want soft; we don't want any muscle definition."

January's character, who is married to advertising guru Don Draper, played by Jon Hamm, is pregnant during the show's third season, premiering August 16. It has affected her wardrobe: "We've done a little bit less petticoats and it's been really fun."

"They tell us to gain weight, gain weight, gain weight, because they want a soft, voluptuous woman which they were [back then] which is beautiful, as it should be."
[From OK! Magazine]
I love January and her character Betty Draper. At first, I thought January was brilliantly playing her as a kind of icy Grace Kelly blonde, but January has really built layer upon layer for Betty. At the end of season two, a pregnant Betty was getting soused at a downtown bar, right before she went off to some random little backroom to have sex with some random dude. From what I've heard, Season 3 doesn't skip ahead massively in time like Season 2 did – I think we're going to see Betty's pregnancy this season. I hope so.
In one other little piece of news relating to John Hamm – he just signed on to play an FBI agent in The Town, a "romantic crime thriller". Ben Affleck and Rebecca Hall are also attached, and it should begin filming this fall.