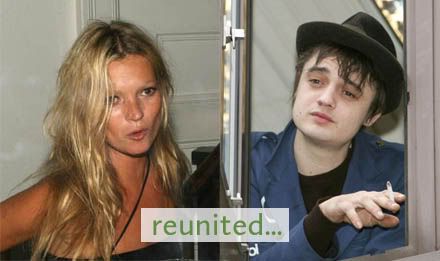 Well Kate Moss really has reunited with Pete Doherty, according to Britain's Mirror, and she's planning a vacation in the south of France to help him sober up:
We hear the cocaine scandal model is whisking potty Pete away to the South of France in the next couple of weeks as a birthday surprise. The Babyshambles frontman turned 27 last Sunday and, instead of showering him with gifts, Kate, 32, has decided on a romantic getaway.
"Kate thinks Pete needs to be rescued," our spy tells us. "They have been secretly in touch for a couple of months, but the holiday was still a total surprise for him.
"She's really worried that he's going off the rails and feels a quiet, romantic break away from prying eyes is exactly what he needs."
Kate is said to be planning the trip because she wants to avoid the press. She is afraid of jeopardizing her newfound success if her reconciliation with Pete goes public.
Sure, that will work. People don't drink or do drugs more than usual on vacation.
Dating lesson for women #1: You can't change a guy.