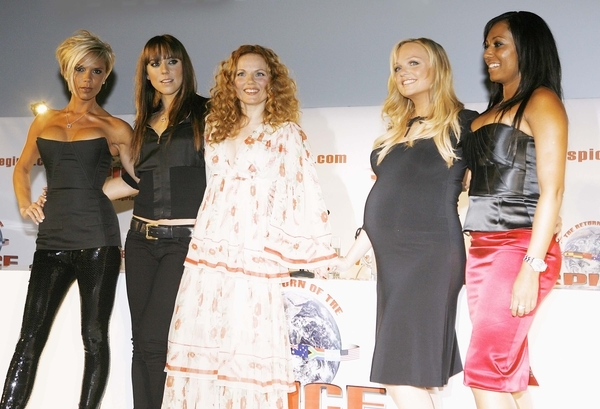 We all know the Spice Girls are going to be the hot ticket this summer. They're so uncool that they're cool again, and this time around we get the added fun of speculating about whether Posh's twiggy leg will snap in that dance routine. Or will Mel C join the Mummy Spices and be sporting a baby bump during the tour? Will Eddie Murphy attend a show? Will David Beckham?
The sheer hotness of the tickets was confirmed weeks ago when over 1 million people in the UK registered to be part of the lottery to be in for buying tickets. They sold out in 38 seconds. I can't even imagine how you could sell tickets that fast. Some of these people must have been scalpers though, as already tickets are on eBay selling for £750. This practice absolutely disgusts me, as obviously these people only bought the tickets to profit from them, keeping the real fans from attending the shows.
Of course, the Spice Girls have got nothing on Led Zeppelin's comeback – over a million people worldwide registered online for just 17,000 tickets to their one-off show at London's 02 Arena.
Anyway, the girls have a greatest hits album coming out for those of us who aren't in the market for concert tickets – and it is likely to feature a duet with Bono.
The group's record label bosses were said to be concerned the group's Greatest Hits album – set to be released next month – would not match the success of their previous LPs and believed Bono's involvement could boost sales.

A source told Britain's Daily Mirror newspaper: "It might seem unusual with the Spice Girls' pop roots and the much rockier work of Bono, but it works.

"There's been a bit of unease as to how the album will perform and if there's still a solid Spice Girls' fan base out there.

"Bono's involvement has lifted the whole camp and he's delighted to have been asked and add his experience."

Bono is not the first star to be asked to collaborate with the girls on their comeback album.

Last month, it was revealed George Michael is writing a Christmas song for the band.
Er, the tickets to their shows sold out in minutes, surely you aren't too worried about how the album is going to be accepted? Actually, I would love to see Bono collaborate with the Spice Girls – getting a little low brow after his previous partners Pavarotti and Green Day and Amnesty International. I hope he gets down to some dance moves on the video. I hope this isn't just crazy speculation!
The Spice Girls are shown at the press conference announcing their reunion on 7/28/07, thanks to PRPhotos.