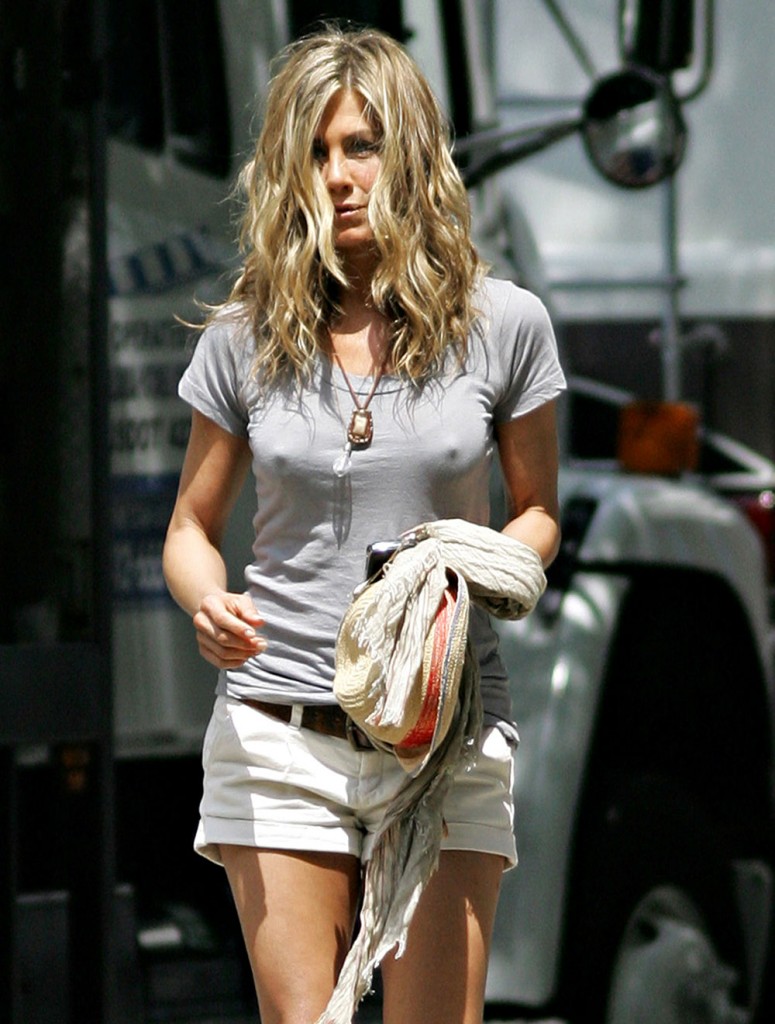 Remember how Courteney Cox was developing a sitcom called "Cougar Town"? That series is going to debut this fall, but there might be a problem! It's looks like Courteney's BFF Jennifer Aniston took the same premise, changed the locale, and turned the whole thing into a movie. The film is called Pumas, and according to Variety (via US Weekly), Jennifer has just signed on to play a "thirty something woman" who takes "a French skiing vacation" that challenges her "romantic expectations". It's also a buddy comedy, I think, because Aniston's character will have a friend who's nailing younger guys too. So it's like Thelma and Louise, only set in a ski chalet with two Botoxed broads nailing young guys, and hopefully no one drives off a cliff at the end.
Jennifer Aniston is on the prowl for younger men … in an upcoming romantic comedy, that is. According to Variety, the actress, 40, has signed to headline Pumas, which centers on two thirty something women who make a habit of romancing younger men. The ladies "take a French skiing vacation that challenges their romantic expectations," the trade reports.

(Interestingly, Aniston's real-life BFF, Courteney Cox, will play an older woman looking for a younger man in the fall ABC sitcom, Cougar Town.)

Aniston first mentioned the project in December's Vogue — the same issue where she said comments Angelina Jolie made about Brad Pitt were "uncool" — describing it as a "female Wedding Crashers."

"It is so a comment on the sexual double standard, and what's been ironic is how hard it's been to get this movie made… Studios want it, but they are afraid of Middle America," Aniston later told January's GQ. "They'd want to change it; they're saying, 'Oh, you can't do that, people just can't imagine you…"

Aniston told GQ that "there are too many movies out there that don't empower women, movies in which their only way of being happy is finding a man. And you know, that's not my favorite theme."

Pumas is the latest project for Aniston. She recently wrapped the comedy The Baster with Jason Bateman and is currently shooting The Bounty Hunter in NYC with Gerard Butler.
[From US Weekly]
How would a romantic comedy called Pumas be a "empowering" for Jennifer specifically or for women in general? It's not a hard-hitting documentary on women in their forties who fall for younger men, it's a romantic comedy. I wonder if Jennifer is going to be a producer on this as well – if she is, she'll get a say on the casting. What hot young guys will she cast as her puma's victims? Bradley Cooper, perchance?
Picture note by Celebitchy: Jennifer Aniston is shown on set today with her cute dog, Norman. She looks cold! I changed the title of the post for Kaiser to add the fact that she's nipping out. We may as well mention is as there are going to be plenty of other sites that are covering it today. This never happens to me. Is it the bras I wear? Credit: Fame Pictures