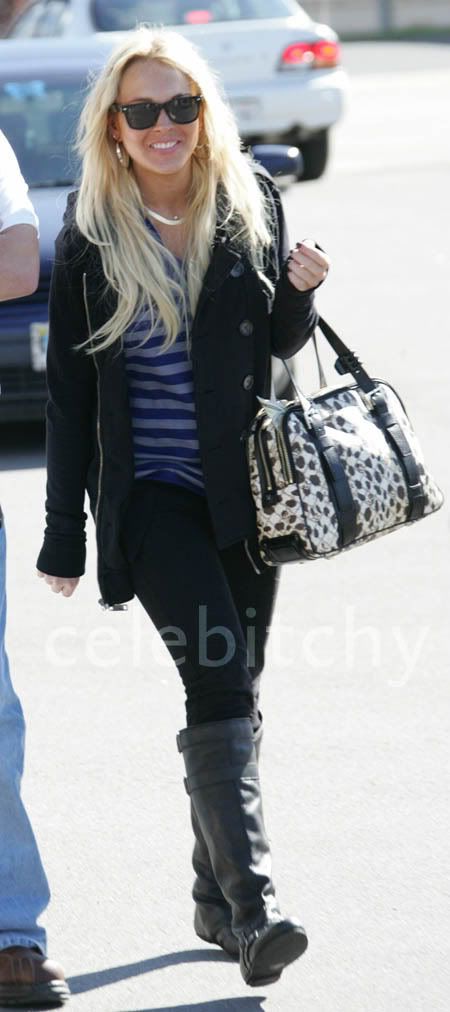 Lindsay Lohan has been at rehab in Cirque Lodge in Utah for about two months, and she's not getting out any time in the foreseeable future. There was news that she might get released last weekend, but that didn't happen, and last week's tabloids had her in for 2-3 more months.
Lohan might be staying in rehab and sitting on her ass in meetings, but whether rehab is really sinking in for her remains to be seen. There's a story in Star Magazine that not only did she test positive for cocaine recently, she's combining prescription drugs to get high and has arranged for people to sneak vodka to her in water bottles while she's attending AA meetings in the community. Oh and she predictably has a new boyfriend too.
Just like the scary tale of how Lohan hijacked a car and took two guys on a multi-car chase, telling them "I'm a celebrity, I can do whatever I want," she is said to have told fellow patients in rehab that she's above the requirements there, too:
Now, Star can exclusively reveal that the troubled actress has good reason for seeking extra help: An insider says she tested positive for cocaine! "She admitted that it wasn't the first time she had done it while at Cirque," an insider reveals. "No one can figure out who's slipping it to her."

Another source… claims Lindsay "gets a buzz" by combining the diet pill Fastin with the anti-anxiety drug Xanax. "I'll think she'll take whatever pills they allow her," says the source. "It's obvious to me she's high, because she acts loopy and can't seem to walk in a straight line!"

"She had a friend of hers sneak vodka in an Aquafina bottle into one of the AA meetings she goes to," the insider says… "She smells like booze, and the staff does nothing about it. When they're not around, she tells people she'll drink as much as she damn well pleases."

"She's been sneaking out to Cirque's North Lodge to hook up with a cute guy!" says the insider. "She seems to really like him…"

The insider adds that Cirque staffers have already put the duo on a strict "no contact" policy that forbids even a simple hello between them!
[From Star Magazine, print edition, October 8, 2007]
And the magazine quotes the insider as saying she asked Lohan if she intended to stay sober, and she just looked at her like she was crazy.
Lohan's hard working spindoctor, Leslie Sloan Zelnick, says "this story is the result of haters and people not wanting Lindsay to succeed."
Not that she didn't say that it's not true, just that people don't want Lindsay to succeed. People seem to have good reason to hate on her.
Lohan is going to take a five day sabbatical from rehab to spend time with her dad in a remote lodge. He'll probably try to proselytize to her and talk a bunch of meaningless platitudes about how she's got to turn her life over, and when he's done he'll milk as much publicity out of it as he can, telling various media outlets that she's doing so much better.
Lohan will not change until she gets an attitude readjustment, and that will take some major soul-searching or a life changing event. At least she's stayed put in rehab for this long, but it's doubtful that it's doing much good for her when she so steadfastly refuses to change her behavior.
Lohan is shown smoking a cigarette outside an AA meeting on 9/30. Thanks to Splash News for this picture.