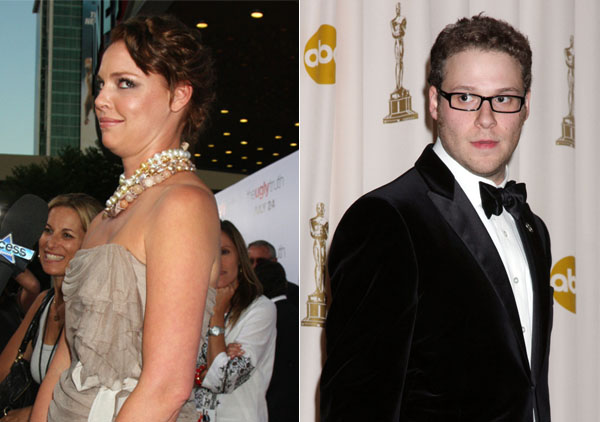 Us Magazine must subscribe to Sirius/XM Radio. They sure do love to listen to the Howard Stern Show and then build news stories around what his celebrity guests say on the air. The latest example of this is their new story on "Funny People" director and co-star, Judd Apatow and Seth Rogen. They appeared on the Stern show this morning to promote the new film, and Howard, who loves a good feud, brought up the comments that their "Knocked Up" co-star Katherine Heigl made over a year ago regarding that film. Both Apatow and Rogen responded in a clearly comical manner –but to hear US Weekly tell it, the pair is ready to throw down with their former leading lady.
Seth Rogen and Knocked Up director Judd Apatow are still miffed over former costar Katherine Heigl knocking the hit blockbuster.

Speaking to Vanity Fair in 2007, Heigl famously remarked that the comedy "paints the women as shrews," while the men look "lovable." She added, "It was hard for me to love the movie." (She later said she was "disheartened" her remarks became "the focus of my experience with the movie.")

But Rogen says he doesn't see how Heigl's new comedy, The Ugly Truth, makes women look even better.

"That [movie] looks like it really puts women on a pedestal in a beautiful way," he quipped on Howard Stern's SIRIUS XM radio show on Thursday.

Added Apatow, "I hear there's a scene where she's wearing … Underwear …with a vibrator in it, so I'd have to see if that was uplifting for women."

Apatow figured Heigl was "probably was doing six hours of interviews and kissing everyone's a**, and then just got tired and slipped a little bit" when she made the remarks to Vanity Fair.

Regardless, Rogen said, "I didn't slip and I was doing f****** interviews all day too … I didn't say s***!"

Even more baffling, said Apatow, "We never had a 'fight'" with Heigl while filming. "Seth always says, it doesn't make any sense [because] she improvised half her s***," Apatow said, adding that she "could not have been cooler."

Apatow said he hasn't spoken to Heigl since her remarks. He doesn't know if he'd make a big deal about it, either.

"It all depends on how much coffee I have had that day," he said. "If I was fighting … with someone else about something I may handle it wrong, and if I'm in like total Buddha mood, I'd be like 'I feel sad that she hasn't learned the lesson of her journey yet,'" he said.

After the remark, "[You think] at some point I'll get a call saying 'Sorry, I was tired…' and then the call never comes,'" he said.

Rogen said he doesn't feel bad since Heigl seems to run her mouth and most people, including Grey's Anatomy staff.

"I gotta say it's not like we're the only people she said some bat **** crazy things about," he said. "That's kind of her bag now."
I heard the broadcast yesterday morning, and it seemed pretty clear that Howard Stern was trying to get a feud going by stirring the pot – and both Apatow and Rogen were jokingly obliging the radio host. It's too bad that US didn't take the time to transcribe the entire portion of the interview, including Howard Stern's remarks. However, they do raise a good point: I'd say "The Ugly Truth" is just as sexist as "Knocked Up," if not more. The characters in that movie are barely anything more than stereotypes, while the characters in "Knocked Up," flawed though they are, at least are more real. But hey: I would certainly be interested in hearing what Heigl has to say about this rebuttal. Oh, and I should add that the Howard Stern/Seth Rogen interview also included a game called "The Wheel of Sex" and a performance by Stern regular Will the Farter.
Seth Rogan is shown on 2/22/09 in the header. Katherine Heigl is shown on 7/16/09. Credit: WENN.com. Image below is from 2008