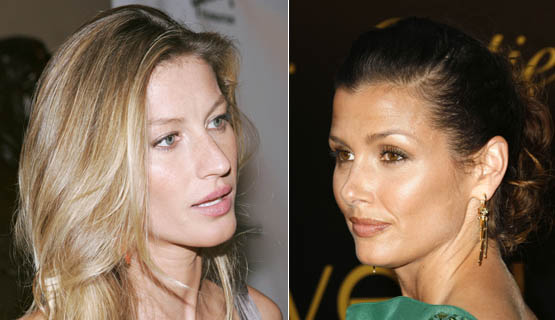 A few weeks ago, Star Magazine reported a funny (and probably false) story that Bridget Moynahan bought a passive-aggressive baby gift for Gisele Bundchen. The crux of the story was that Bridget didn't want to shell out a lot of cash for Gisele, so she went into a baby store and bought a $20 outfit and complained about it to whoever would listen. Bridget and Gisele's history is long and sordid, suffice to say that I get the impression that Gisele is a very effusive woman, even with people who can't stand her, and Bridget can hold a grudge like nobody's business.
It looks like things are turning around for Gisele and Bridget though – according to a new report from Star. They claim Bridget is giving Gisele "mothering advice" as the two women "gabbed for more than three hours" at Bridget's home:
Gisele Bundchen is getting mothering advice from the unlikeliest of people: her husband's ex!

Bridget Moynahan has put any bitterness aside to help Tom Brady's new lady enter the world of mommy hood. The two women gabbed for more than three hours at Bridget's Pacific Palisades, California home on July 2.

"Gisele had been reaching out to Bridget for some time now, with little success," an insider tells Star. "But Bridget finally realized it was time to set aside their differences for the sake of the kids."

The power to forgive is important in a mom!
[From Star Magazine, print edition, August 10, 2009]
I'd argue that the power to forgive is important for everyone, not just mothers, but whatever. I kind of hope this story is true, even if it means there will be no more Gisele versus Bridget tabloid stories. It shows both women are very mature, which I kind of suspect anyway. I really wonder what they were talking about – breastfeeding? Nannies? Binkies? Or Tom's penis size?
Header image is of Bridget Moynahan on 6/18/08. Credit: WENN.com. Gisele is shown on 5/6/09. Credit: PRPhotos. Image below is of Gisele on 7/10/09.