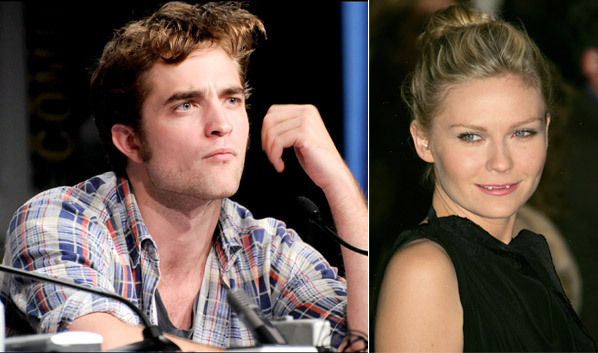 Earlier today, Kaiser told you how Robert Pattinson is getting his hunky heart broken by his mortal co-star Kristen Stewart. While Pattinson was off having a maybe-fling with his other co-star, Emille de Ravin, Stewart decided to get back together with her ex boyfriend, dashing Pattinson's hope of a reunion. At least, according to the National Enquirer. I'm hoping that behind the scenes these two are quietly still together and will eventually get married and have supernatural babies. (I'm undoubtedly influenced by the fact that I'm almost done reading the third Twilight novel, Eclipse. I know this is lame for an adult married mom, but work with me here.)
According to Star Magazine, there might been an even more sinister twist to the Pattinson/Stewart love pentagon. Kirsten Dunst is said to be trying to get her skinny thrift store claws on Edward, I mean Robert! She's been sending the British actor sexy text messages trying to entice him into her messy lair.
Kirst Dunst has set Robert Pattinson square in her sights! "Kirsten is absolutely infatuated with him and thinks he would be the ideal boyfriend," a friend tells Star. The pair first crossed paths while Rob, 23, was filming Remember Me in New York City earlier this summer. "She's been sending Rob a barrage of flirty texts, letting him know she is very interested in getting to know him better – whenever and wherever he wants." The 27 year-old has even hatched a desperate plan to lobby for a part in Eclipse, the third film in the hit vampire series, according to another source. "She thinks they would have a lot in common." After all, Kirsten had her own taste of bloodsucking notoriety in 1994's Interview with the Vampire!
[From Star Magazine, print edition, August 10, 2009]
The best part of this story is that Star uses one of those photos of Kirsten Dunst in which her two canine teeth (I thought those were the incisors or whatever, but I looked it up) are stuck to her lip like fangs. That's really why I'm running this story – I just wanted to recreate that image. Plus it never hurts to alert the Twihards that they have some competition. Maybe they'll boycott her movies and complain about her on their blogs. (Oh wait, I'm doing that.) Stay away from Kirsten, Rob!
Kirsten Dunst is shown on 10/13/06. Robert Pattinson is shown on 7/23/09. Credit: WENN.com