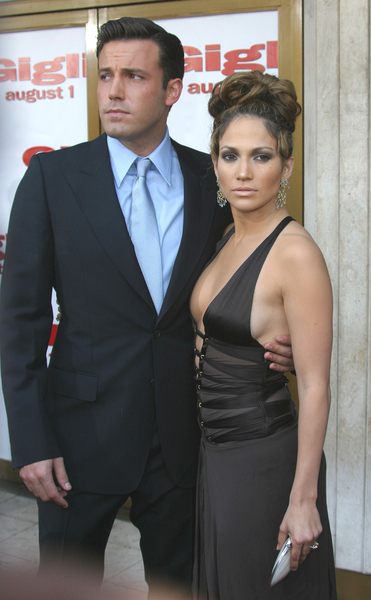 Here's an article filled with lots of obvious statements: Ben Affleck now admits that dating J-Lo probably hurt his career. You know what else probably hurt his career? "Gigli." Yeah, it's been a while since you heard a "Gigli" joke, huh? I'm right on it. I've heard Ben Affleck referred to as the poor man's Matt Damon, though I think Ben is a lot nicer to look at. But Matt Damon's got the smarts, and a lot of people (including the writers at "Family Guy" – in whom I place a lot of trust) think that the bulk of "Good Will Hunting" is really attributable to Damon, not Affleck. But Affleck had a few years there when he got a lot more attention – though not necessarily for good things. The worst one, of course, being J-Lo. I kid, I love J-Lo with a ferocity I can't explain. Really, I have no idea why, but I think she rocks the monkey. But there's no denying that dating her really didn't help Affleck's career, and made him come across more as a playboy and a dilettante than a legitimate actor and writer. Ben gave an interview with this month's "Details" where he talks about some of his mistakes. The best part of the interview? Affleck was late. Why? His German Shepard got into a container of Metamucil and got sick all over the house. I've been there, my friend. I've been there.
On dating Jennifer Lopez:
"It was probably bad for my career. What happens is this sort of bleed-over from the tabloids across your movie work. You go to a movie, you only go once. But the tabloids and Internet are everywhere. You can really subsume the public image of somebody. I ended up in an unfortunate crosshair position where I was in a relationship and [the media] mostly lied and inflated a bunch of salacious stuff for the sake of selling magazines. And I paid a certain price for that. Then, in concert with some movies that didn't work…"

On Gone Baby Gone:
"I feel like (Gone Baby Gone) is the linchpin for my life. My career. I have a lot riding on it. I want [the film] to work. Badly. I mean, a shitty movie comes out on 2,800 screens? I've been there and it's embarrassing."

On why he likes directing:
"That's why there's something really great about directing-about having authorship over something. If you don't like this movie, I'm the guy to see. I'm the guy to criticize. I take some measure of comfort in that. It's fair, at least."

On his directorial debut:
"Listen, I've gone out and directed a movie and made it really f—king good. If the movie's good, people will like it and go see it. All the rest of it is bullshit."

On what's at stake with his new film:
"It's pretty simple. If people don't go see it – I'm f—ked."

On his decision to direct:
"I guess I just thought, I've seen it done enough. I've been on the sets enough. I'm a writer. An amateur photographer. An actor. I guess I just thought the sum of these parts would come together and I'd be able to do it."

On living in L.A.:
"I'd be surprised if I'm still living here in a couple of years. Professionally it would be difficult. But that's not as important as that other thing."
[From Us Weekly]
Oh Ben. You're sort of a hack, but I still love you. And I've been told by many of our readers that I have to love your wife or they'll kick me, so I love her too. Whatever happened to all those rumors that he was going to run for the senate? Those were clearly post J-Lo rumors, during the current Jennifer Garner administration. I was wondering how those would gel with all those "I've spent too much time at the Playboy Mansion" rumors. I'm guessing that having dated J-Lo is about the same as having killed a hooker, in terms of political weight. Maybe he's coming forward and admitting his mistakes so he can move on. And clean up that Metamucil.
Picture Note by Jaybird: Here's Ben looking surprisingly thin at the Annual Deauville American Film Festival on September 9th. Images thanks to PR Photos.