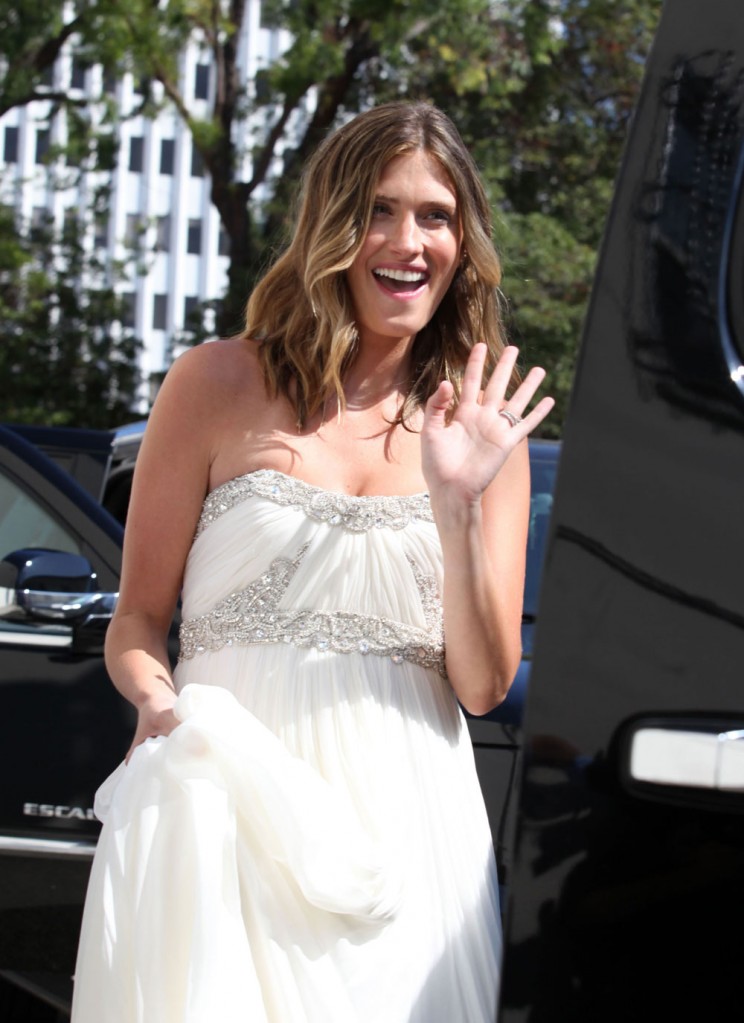 It seems like forever, but Mark Wahlberg and his on-off girlfriend/fiancé Rhea Durham finally got married this weekend. They couple already has three children together – Ella Rae (age 5), Michael (age 3) and Brendan (age 10 months). Mark and Rhea have been "engaged" for years now, but last fall Mark finally seemed to be buckling down and getting serious about marrying Rhea, specifically in a "small, Catholic" ceremony. And yes, I realize that Rhea could conceivably be the one to be holding up this marriage, but I doubt it.
Months ago, Mark claimed that he didn't want his wedding to become some kind of media spectacle, and it looks like he sort of got his wish. We've got lots of pictures outside of the Beverly Hills church, but it doesn't look like the paparazzi were invasive. And we get to see Rhea's wedding dress! It's Marchesa, and I'm not loving it. The bead work looks shoddy and bust is too tight. And even though I think Rhea is gorgeous, I wish she had done something different with her hair. But it's not my wedding, so God bless. I'm sure she was thrilled. Mark looks like he's still drunk from the bachelor party, doesn't he?
Mark Wahlberg has finally made it official! The actor and his longtime girlfriend, model Rhea Durham, tied the knot on Saturday, PEOPLE has confirmed.

The couple, who have three children – Ella Rae, 5, Michael, 3, and 10-month-old Brendan Joseph – were married Saturday in an intimate and romantic ceremony attended by their children and about 12 close friends and family at Good Shepherd Catholic Church in Beverly Hills.

Wahlberg donned a dark suit and the bride wore a white strapless Marchesa dress with silver embroidery and a Neil Lane diamond-and-platinum cushion-cut ring complemented by a diamond bracelet and earrings. "She looked like a princess and beyond stunning. Mark looked ecstatic," says an eyewitness shortly after the ceremony, which lasted for about 45 minutes in the church, which was decorated with candles and pink and light purple roses.

The groom-to-be, 38, spent a quiet pre-wedding moment alone at the church Friday afternoon. Wahlberg, looking happy and relaxed, sat down in the front row before returning home to his Beverly Hills home for a small gathering.

Wahlberg revealed earlier this year his plans to wed Durham, 31. "We're talking about August," he told PEOPLE. At the time, he had yet to decide whether he would marry in his Boston hometown. "It will be in a Catholic church somewhere."

As for adding more children to their brood? "I'm the youngest of nine," Wahlberg said, adding that the final count will be "however many Mom wants to have."

Wahlberg, who is the executive producer of HBO's hit show Entourage, will next star in the Peter Jackson-directed feature film The Lovely Bones opposite Rachel Weisz, in theaters on December 11.
[From People]
Congratulations to the happy couple. I think Ella Rae was the flower girl, she seems to be part of the ceremony in her pretty little white dress, that mimics her mom's wedding gown. I don't see their two sons in the pics, so maybe one of Mark's nephews acted as the ring bearer. I wonder which brother or best friend he used as best man?
On just a side note, because People put it at the end – I am so looking forward to Peter Jackson's The Lovely Bones. It's one of my favorite books, and I think the combination of Mark (as the father of the murdered girl) and Rachel Weisz (as the mother) will be incredible. My guess is that Mark will pick up his second Oscar nomination, it's such a great role for him.
Photo credit: WENN.com and Fame Pictures