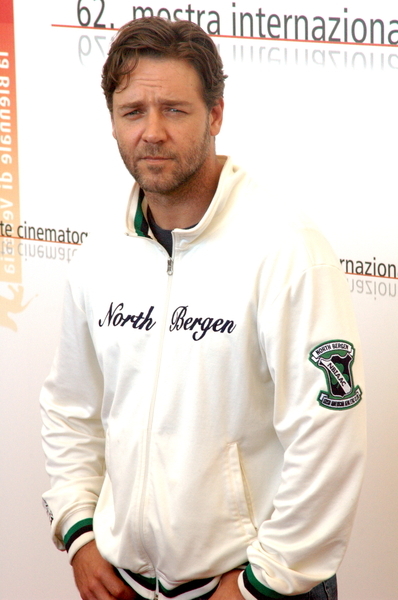 Russell Crowe must have undertaken years of therapy to come to this conclusion – he acts out at people because he has low self esteem. Really? It's not just because you are a bad tempered Aussie?
"I think I've got better over the years with just being OK with all that. Any negativity I had with it stems from self-worth issues. "I don't rate myself or consider myself to be worthy of that sort of thing. So when people approach me my reaction is sometimes negative. But I'm a lot calmer with it now." The Gladiator star, who was convicted of second degree assault for throwing a telephone at a hotel concierge in June 2005, adds, "(The public) don't see the crusty reality. They see some sort of sparkling version, and that's what they want to have contact with. I'm a lot easier about all that sort of stuff now."
Rusty doesn't just need to blame his low self-esteem – it seems he's a genetic throwback as well.
Journalists with the British Broadcasting Corporation have tracked the Australian actor's roots to Kelowna, B.C. with smashing results.

Crowe's great grandparents, William and Kezia Crowe are buried in the Okanagan city after moving there in 1947 to run a local auction house.

Stories about William Crowe suggest he would smash crockery if he could not obtain a desired auction bid.
Genetics are a powerful thing.
I can see why Russel Crowe would be a happy man nowadays – he is married to gorgeous Dannielle Spencer, has two cute kids, and owns his own football team. Actually, owning a football team wouldn't do anything for my quality of life, but isn't that some kind of man-dream? Like a really big TV?
Rusty also has a little golden man named Oscar to cuddle up to at night, if his gorgeous wife isn't enough. What part of the millions of dollars he is paid per movie, the awards he's won, and the general adulation that comes in Hollywood stopped him from achieving high self-esteem? We might only see the 'sparkling version', but even looking for cracks, your life seems pretty good Russ.
Russell Crowe is shown at the 2005 Venice Film Festival on 9/25/05 thanks to PRPhotos.