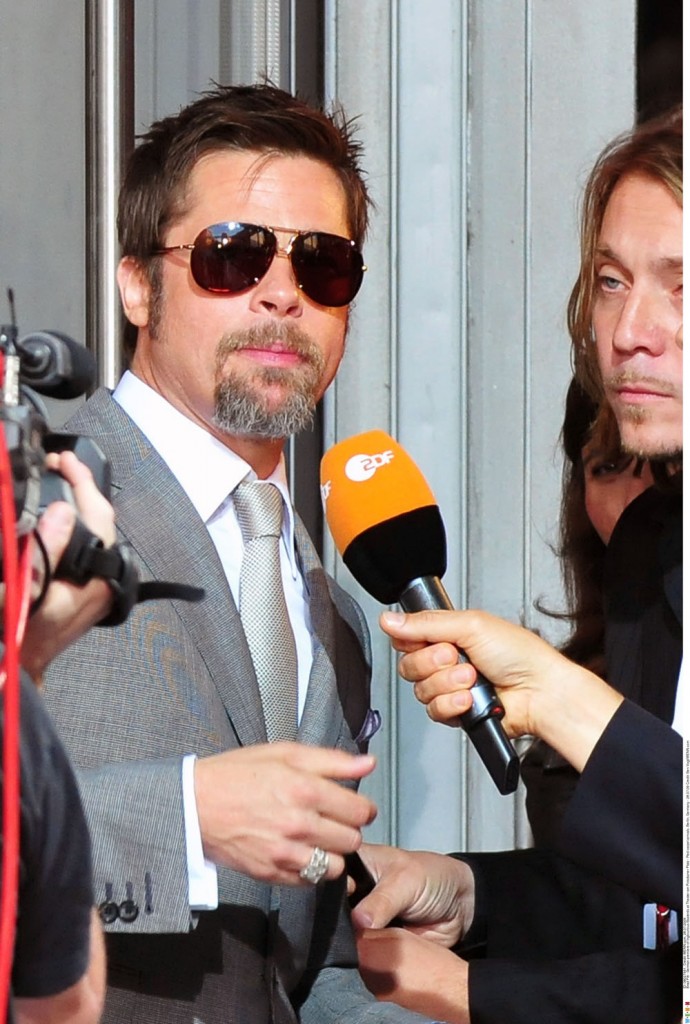 Much like the Bild interview with Brad Pitt that was recently published, this Times Online interview seems to have taken place while Brad was at the Cannes Film festival, and is only being published now as part of the early promotion for Inglourious Basterds, out later this month. Getting his "lush" cred out of the way early in the interview, Brad admits that he's hungover, and that he had a "late night… now, I need coffee." The interview is really long, so if you'd like to read the whole thing, go to the Times Online site. The person who wrote the piece is obsessed with rehashing all of the tabloid rumors surrounding Brad and Angelina, although Brad doesn't veer off-message even once during the interview. His message? "Meh" to whatever the tabloids writing. Here are some excerpts:
On the split rumors: "Yeah, we're really miserable," Pitt deadpans but conveniently doesn't answer the question directly. Later, he insists the red carpet appearance wasn't simply a PR exercise. "No, no. It's fun up there and I love it. We're not even really aware of what is going on." He's clearly weary of discussing the one area that lurks, like the proverbial elephant in the room, around any journalistic encounter with him. "We just don't really participate," he says of the phenomenon that surrounds them. "It kind of goes on without us. It's self-generating. When I was younger I would take it personally; it was such an injustice to me. As a man or as a woman I don't know how they could sit there and do it. I mean, [the stories] are consciously fabricated and I don't know how you could do that."

On moving around so much: Pitt insists that they love it. "Everywhere is interesting in its own way, each place has its own feel and something to offer: you pick up something, the kids are picking up something. They have this world view which we are very proud and happy that we are able to provide."

On how the kids deal with their parents' fame: "We're still trying to negotiate how we explain to them what we do. It's not strange to them that their parents will come on television. And it's not strange for them to walk outside and for there to be a photographer. They just think if there is printed material [as he disdainfully refers to the gossip mags] hanging around, their parents might be on the cover." Surely they must be tempted to take a peek? "No, there's no point."

On family time: "Oh, we get peace in our lives. We got out here a couple of days early with the family and we get to hang out in a place in Provence. We're pretty good at it. You carve out that time for the family. Do we get a little silence with the kids? No, not that kind of silence – silence is over at home, but we like that chaos…"

On German beer (again): "Berlin is not a stranger to us. I like the beer, as you can see from this morning. The beer is good."

On working with Quentin Tarantino: "When you get into a Tarantino film he has all the back story lined up for you. It's all teed off and it's really well thought out. Other films? Let me think. That requires memory and I'm struggling with that right now… Listen, I like a bit of extreme and I'm always looking for other areas and pushing in different directions, but it's kind of incumbent on what comes your way to pick from."

On Make It Right NOLA, Brad's affordable housing project in for the lower 9th Ward in New Orleans: "It's going really well… By the end of the year we will have 100 homes and it will be the greenest, most intelligently designed neighbourhood in the United States. We have families coming in and their electric bills are $8, $12. It's a big deal for anyone, but for a low-income family, it's life-changing. It's also a big deal because it's proving [green] technology at all strata. It's amazing and I thank everyone who's been involved."

On his future as an actor: "I think [acting] is a younger man's game; there are fewer interesting parts for older people and we all get older. But I feel like I've done it. I've kind of had my time and that's quite freeing."

Any acting dreams left? "Yes, of course there are," he smiles. "But I'll do them first and then we'll talk about them."
[From Times Online]
Yeah, Brad really sticks with his talking points for the most part. I feel like I've read parts of this interview before, but I'd imagine if you're doing 40 interviews a day for a week, every question and every answer sounds the same. I did find Brad's answers on his future as an actor very interesting. Could Brad be joining Angelina in her refrain of "maybe I'll quit sometime soon"? Oh, right. Brad has nineteen projects in various stages of development. He's not quitting Hollywood for a while.
Here's Brad Pitt at the German premiere of 'Inglourious Basterds' on Tuesday. Images thanks to WENN.com .