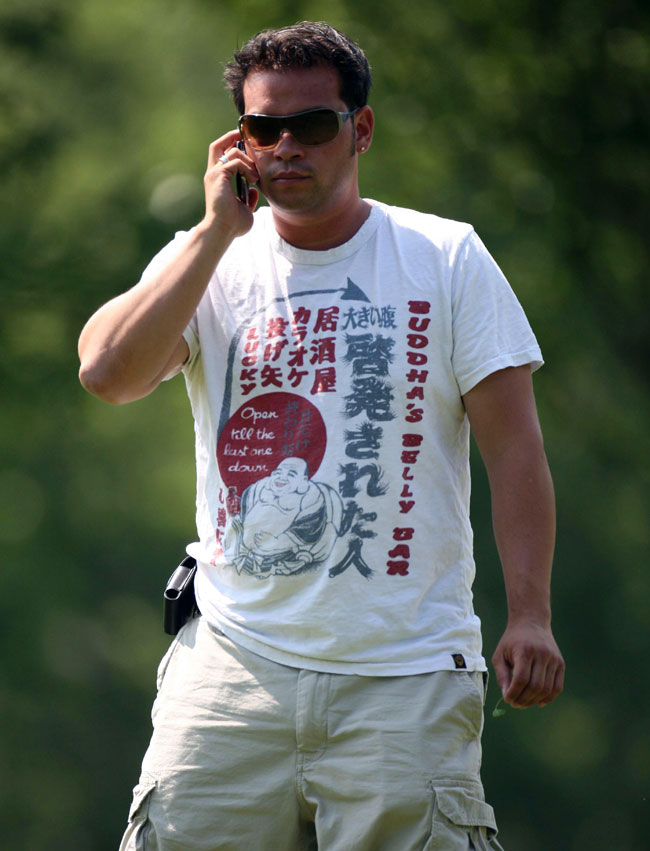 Jon Gosselin seems to be banging just about any female in his immediate radius who will have him. First he cheated on his wife, Kate, with a 23 year-old teacher from his parents' hometown, where he was staying at the time. Next he moved on to the daughter of his wife's plastic surgeon, whose family he just happened to be living with in the aftermath of his separation. When a tabloid reporter came around asking to interview him he snatched her up and was more than happy to jet off to Michael Lohan's place in the Hamptons with her.
On Monday we covered a story from Radar Online that Jon was seen taking another, unknown woman, back to his home in Pennsylvania in the middle of the night while he was supposed to be watching the kids. It turns out that she's a 23 year-old who works at a bar that Jon frequents and occasionally babysits his kids. The question is – did the babysitting gig come first or did Jon just hire her as a cover?
While Kate Gosselin has been taking the kids camping, Jon Gosselin has been having his own version of sleepovers.

Jon's new nighttime pal is a woman he hired to babysit his kids, RadarOnline.com has learned exclusively!

Providing more drama off screen than in front of it, Jon spent the night with Stephanie Santoro, 23, a cocktail waitress, single mom and aspiring model whose online resume reveals she's willing to pose nude!

And while Stephanie has told people Jon hired her to babysit the kids, RadarOnline.com has all the details of their recent sleepover, including photos of the most recent night Jon and his new pal spent at his house.

Jon and Stephanie, who works part-time at Legends, Jon's favorite night spot in Reading, Pa., spent Saturday night there, with Stephanie sitting at his table most of the time.

They left together at a little before 3 a.m., an eyewitness told RadarOnline.com. (The club closed at 2 a.m. but they stayed inside.) They drove together in Jon's car back to the family home in Wernersville where Stephanie spent the night in Jon's apartment over the garage.

Hmm…not exactly where you would expect the babysitter to sleep!

Stephanie stuck her head out at approximately 7:15 a.m. Sunday, wearing the same outfit as the night before. Jon called her back in and soon they left in separate cars.

Jon, meanwhile, has gone dating-crazy since leaving his marriage. He has dated Hailey Glassman, 22, and Kate Major, 26. He has told both women he is still dating them.

Stephanie, meanwhile, wouldn't confirm her romantic liason with Jon, despite being told of photographic proof.

And, in fact, RadarOnline.com has confirmed that she had been babysitting Jon's kids before their recent night out together!

She's even brought her 2-year-old child to the Gosselin residence, before the sleepover of course!
[From Radar Online]
Radar has photos of the woman and INFDaily has close up candids. She's some sort of aspiring model, although to put it bluntly she really doesn't have the face for it. Jon is such a loser. While he was still on his second girlfriend he said on his show "One day my kids are going to Google me, and I'm going to have to explain myself." Yeah, so stop being so obvious, Jon. Man up and learn to either stick with one girlfriend or try to hide your affairs. It can't be that hard.
Yahoo!'s OMG has a great editorial on Gosselin titled "Six Things Men Can Learn from Jon Gosselin," which outlines the many ways they can avoid being a public douche. It includes such tidbits as "Don't Wear Ed Hardy," "Stand Up For Yourself," and "Don't Forget That You Have Children." My favorite part is their observation that Jon is acting out because he didn't have the balls to stand up to his wife. "This ramshackle playboy act is how Gosselin is trying to prove to everyone that he's a man. We're not buying it… If he would have just been a man and stood up for himself in the first place, he wouldn't feel this need to overcompensate."
"Jon and Kate Plus 8" returned to TLC on Monday after over a month's hiatus following Jon and Kate's divorce announcement. The ratings were down 61% following their previous episode, and there was probably a good reason for that. Critics note that it was a super boring and was focused on Jon and Kate doing separate domestic duty. It would have been much more interesting if they would have followed drunken dad Jon to the Hamptons with his latest floozy. People just aren't that interested in Kate's bikini body.
[Thanks to Oxa for some tips!]
Jon Gosselin is shown outside his home on 8/3/09. Credit: INFPhoto.com