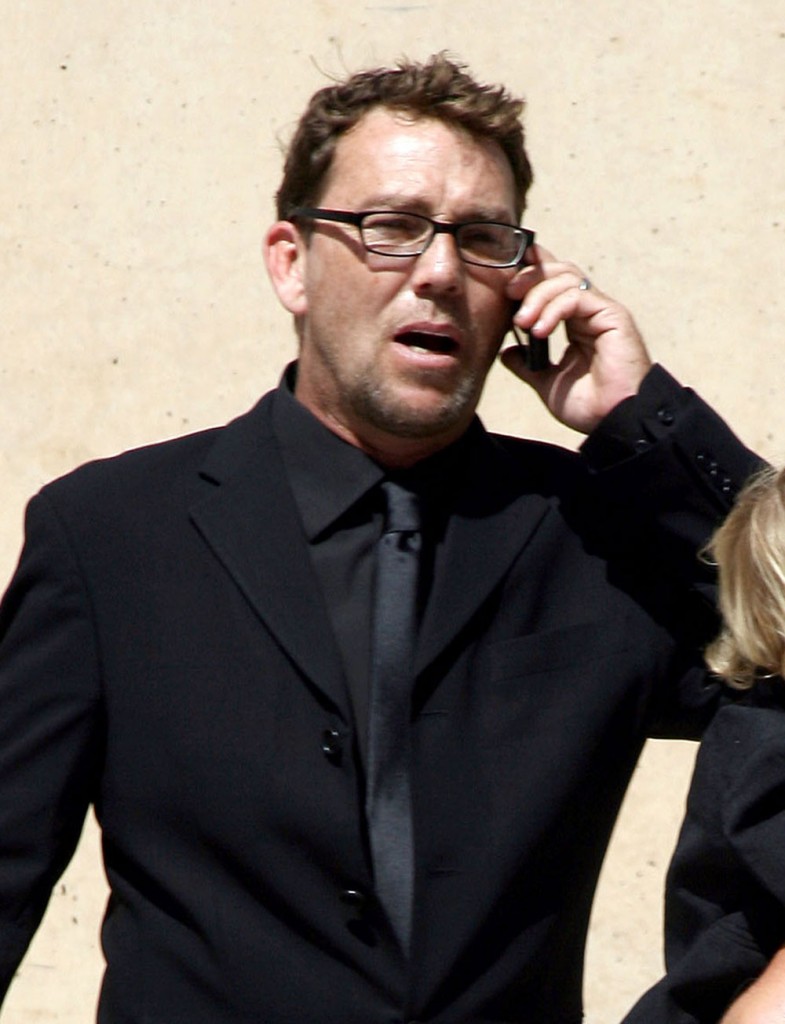 The Daily Mail reports that Griffin O'Neal, Ryan O'Neal's son with his first wife, dropped some bombshells about his troubled childhood on Larry King Live last night. One of the most shocking claims, and the one the Mail leads with, is that Ryan gave Griffin cocaine when he was just 11 years old. This quote isn't the transcript of the interview on CNN's website, but it's in the podcast around the 14:00 minute mark, and The Daily Mail gets the quotes right:
Ryan O'Neal's eldest son Griffin claims his father destroyed his life by giving him cocaine when he was just 11.

The actor said O'Neal's party lifestyle encouraged him to take drugs, which left him and his siblings battling lifelong addictions.

In an interview with US chat show host Larry King, 45-year-old Griffin said: 'I have had a lifetime of hellacious nights crying, staying up too late, wondering what I did to my life. It destroyed me. It wasted many, many years of my life.

'I was 11 years old when he gave me cocaine and said we are going to see a long movie called Barry Lyndon.

'He said "It is a very long movie. Maybe this will help you". I was 11. I could never, never ever do that to my child.'

Griffin, O'Neal's son from his first marriage to Joanna Moore, is estranged from his father and was barred from attending stepmother Farrah Fawcett's funeral last month.

He also claims to have doubts that his father's public outpouring of grief was genuine.

'All those crocodile tears! My dad's only goal was to make sure he would be in the will,' Griffin said.
'It was so disgustingly transparent as soon as he found out she was terminal. I consider him a vulture presiding over a carcass.'

He also claimed O'Neal was responsible for the drug problems of his sister Tatum and half-brother Redmond, who inherited the bulk of his mother's £3.65million estate.
Redmond, 24, has battled drug and alcohol addiction for most of his life and is currently in a Los Angeles prison for drugs offences.

Tatum O'Neal has also fought substance abuse and last year was arrested for buying drugs on the street.

The 45-year-old, whose mother, Joanna Cook Moore, died from lung cancer in 1997, has since insisted that she is clean.

Griffin said: 'Redmond hung out with Ryan a lot, because Ryan allowed the drug use. He allowed the drug use in the house.

'They party together. They were both arrested. My dad had more dope on him than Redmond did.

'And that was one of the reasons me and my dad fought. I said, "You know what? You are killing your son. I don't think you know what you're doing".'
[From The Daily Mail]
Griffin also talks about the terrible fight he had with his dad Ryan in 2007, in which his father stabbed him with a fireplace poker, slashed his eight and a half months pregnant wife in the face with it, and tried to shoot him. He says he hasn't talked to his dad since and wasn't able to visit Farrah, who he considered like a step mother, since the day before that incident. Griffin and Ryan could have potentially have run into each other at Farrah's funeral, but Griffin was turned away after driving 300 miles to get there.
In a portrait of severe family dysfunction and addiction, Griffin says that he tried in vain to save his younger 1/2 brother, Redmond, from his father. Ryan regularly did drugs with Redmond and gave him money to enable his habit. Redmond and Ryan were both arrested for meth possession last September, and Redmond remains in jail. Not only was Ryan a despicable father, claims Griffin, he was also a terrible boyfriend. Griffin says that Ryan was around Farrah in her final months primarily because he wanted a piece of her estate. Farrah loved him, but never wanted to marry Ryan as he claimed, according to Griffin. Ryan regularly cheated on Farrah when she was healthy and when she was sick. She knew all about his infidelity and even walked in on him once with another woman.
Let's hope that when Redmond gets out of jail he'll go live with either Griffin and his family or with his half sister, Tatum. Griffin says he's been sober for four years and couldn't be happier with his wife and two year-old son. You can tell he cares about his brother and he said he visited Redmond in jail a couple of weeks ago. If Redmond goes back to live with Ryan it will undoubtedly be more of the same for him, and by Griffin's account that's just awful.
Griffin, his wife and youngest son are shown outside Farrah Fawcett's funeral on 7/1/09, where they were turned away. Credit: Juan Rico/Fame Pictures